The council wins praise for plans to connect Aucklanders with their greatest asset, the harbour.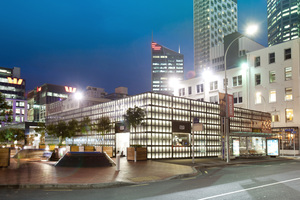 Matthew Cockram praises the Auckland Council "family" for its visionary plans to open up the city's waterfront. "We think what they have in mind there is fantastic - anything to allow Aucklanders and visitors to connect with the water's edge."
Cockram - who is chief executive of Britomart developer Cooper and Company - strongly advocates improving the pedestrianisation along Quay St from Princes Wharf to beyond Britomart.
Much of Quay St was closed off during major Rugby World Cup games to form a giant fanzone. A range of plans have been proposed for Quay St to effectively form a boulevard that will not only make it a more pleasant place to stroll or promenade. But will also open up the areas beyond the "red fence" and connect Aucklanders to the water's edge.
"We don't advocate Quay St be permanently shut," says Cockram. "Taking a road out of action is a really drastic step. You run the risk of it becoming a bit of an island. But we do think improving the pedestrianisation and connection is a no-brainer."
Johnson Pilton Walker has conceived a number of designs for the area (see graphics). Cockram is particularly attracted to proposals that effectively turn a couple of adjacent finger wharves into an amphitheatre when a major event, like the recent triathlon, is held. "The sheer fact that cruise ships can be parked at the bottom of the major street of our major city is also pretty good."
Cockram's own offices front onto Quay Street. But the boardroom looks out over Britomart Precinct which has been a work in progress for more than eight years.
When Peter Cooper - now based in California - won the right to develop the historic area, it was in a state of decay. But it is now a stylish and zingy place, housing top-notch businesses like Westpac and Ernst Young alongside a vibrant bar and restaurant area which has a cosmopolitan appeal. There are also classy retailers within the glass-covered Atrium on Takutai. But a point of contention came when High St fashion brands like World, Kate Sylvester and Zambesi decamped to Britomart.
Cooper and Company is building a new complex - the Pavilions - which will feature some of New Zealand's major fashion brands like Karen Walker. But the "black boxes" - or showcases - that dot the precinct opposite Westpac and Ernst Young are not a permanent feature. Another office tower is planned when the market is right.
Cockram says the work that the Auckland Council and Waterfront Auckland have done on the city's "public realm" has been a pleasant surprise. He likes the democratisation of spaces - particular the flow down the Queen St "valley" to the waterfront.
The company's own plan to build a hotel at its 114 Quay St - currently the home of the Seafarers building - is still stymied by a legal fight with the council.
Cockram also supports allowing Ports of Auckland to retain its port. Auckland's chief heritage boss George Farrant recently praised the $1 billion Britomart scheme to restore about 20 buildings near the city's waterfront.
"My high hopes have been abundantly realised in the growing vibrancy, colour, and popularity of the precinct," Farrant told the Herald. "It is of course to the credit of all involved that such a result which was carefully prescribed by the council, planned, and executed by Cooper and Company, has so emphatically been achieved.
"This is a good opportunity maybe to look back 10 years and celebrate."
The results of the precinct's upgrade are far more intricate, detailed and interesting than anything the council envisaged, he said. "It's been handled well at the micro-level and that's what makes a good city."