Benchmark index continues to drift down from the highest levels in almost five years.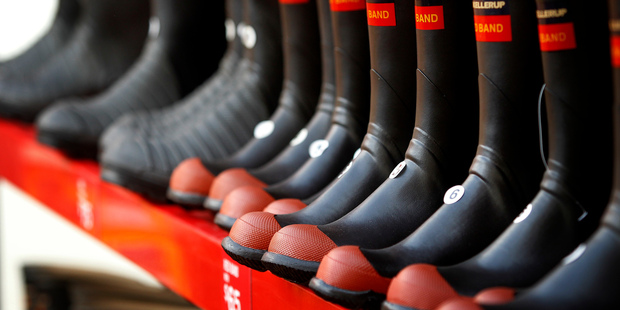 New Zealand shares fell yesterday as Fletcher Building gave up early gains and Skellerup Holdings was punished a second day for lowering its guidance. NZ Oil & Gas and PGG Wrightson rose.
The NZX 50 index fell 26 points, or 0.7 per cent, to 3931.88. Within the index, 30 stocks fell, 13 rose and seven were unchanged. Turnover was $67.8 million.
The benchmark index has continued to drift down from the highest levels in almost five years reached last week. Fletcher began the day stronger before falling back down below $7. It ended the day down 1.6 per cent to $6.93.
"Fletcher Building is relatively volatile at the moment," said Grant Williamson, a director at Hamilton Hindin Greene. "It spiked a few days ago on positive housing news in the US and Australia but the rally was short-lived."
He said the announcement of further work on the Clifford Bay ferry terminal proposal may herald potential infrastructure work down the track for Fletcher.
Skellerup dropped 4.2 per cent to $1.60, adding to its 3.5 per cent drop on Wednesday, when it said next year's profit may fall as much as 11 per cent from a record result in 2012 as the company enters a tough trading environment.
"Investors had labelled this a growth stock," Williamson said. "The guidance indicated maybe that growth is going to have a bit of a breather."
Nuplex Industries fell about 3 per cent to $2.93 as new it may impute its dividends was overshadowed by the Shareholders' Association seeking to rein in directors' fees. Williamson said there may also have been some disappointment it didn't reveal any significant upside in its guidance.
Guinness Peat Group was unchanged at 57c after the investment company said Ron Brierley trimmed his shareholding in the company.
Goodman Fielder, the Australasian food manufacturer, fell 6.6 per cent to 71c, yesterday's biggest decline on the index. Cavalier fell 3.7 per cent to $1.82 after Wools of New Zealand said it plans to raise money to promote wool in export markets.
NZ Oil & Gas rose 3.5 per cent to 89.5c. The company has some $162 million to spend on increasing its reserves.
Wrightson, the rural services company controlled by China's Agria, rose 2.9 per cent to 35c.
Vector rose 1.1 per cent to $2.75 and Ebos Group gained 0.7 per cent to $8.23.
Windflow Technology was unchanged at 19c after saying it would seek bridging finance to enable it to continue to operate until a fundraising round with shareholders.