Bank increases retail deposits to a record $34.5 billion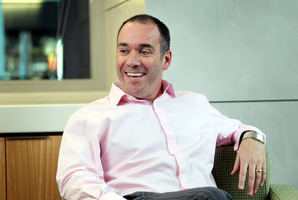 A push to increase deposits and a drop in the amount of money put aside for doubtful debts are behind a 21 per cent boost in cash earnings for the Bank of New Zealand, chief executive Andrew Thorburn says.
The BNZ was yesterday the latest bank to produce a strong result. Last week the ANZ revealed a record underlying profit for the year to September following the ASB Bank's record net profit announced in August.
BNZ's $741 million cash earnings profit for the year ended September 30 was below the bank's record $785 million set in 2008 - before the height of the global financial crisis - but was up on the $612 million it made in the previous financial year.
Thorburn said the bank had actively targeted deposits, increasing its retail deposits from $31.1 billion to $34.5 billion over the year - a record level for the bank, which had seen its market share rise 0.76 percentage points to 18.8 per cent.
The drive for local deposits meant the bank could reduce its reliance on offshore funding markets, he said.
"Having a strong capital and funding base has enabled the bank to maintain our cost of funds, and in turn, allows us to offer competitive rates to our customers, invest in staff and the business, and continue to support local suppliers."
The bank's bad and doubtful debts provisioning also dropped by a third over the year, falling from $151 million to $98 million. But during the financial year the doubtful debt provision nearly doubled between the first and second half of the year.
In the six months to March 31 the bank set aside $34 million - that grew to $64 million in the second half.
Thorburn said the first half provision had been abnormally low. "It was never going to stay that low."
BNZ's percentage of gross loans and acceptances overdue by more than 90 days were also up in the second half. The company attributed the increase to business lending and said exposures to commercial property, dairy and the kiwifruit sectors were the main industry concerns.
However, only around 0.2 per cent of the bank's loans were written off so not a lot of provisioning was feeding through, Thorburn said.
"We are very well provided for."
The bank's net interest margin fell between the first and second half of the financial year and Thorburn said that was due to increased competition in the deposit market and increased costs in funding.
Thorburn said New Zealand's strength as a food producer gave him heart for the next five to 10 years. BNZ's parent National Australia Bank reported a fall in its net profit of 21.8 per cent to A$4.1 billion. Its cash earnings also fell by 0.5 per cent to A$5.4 billion.