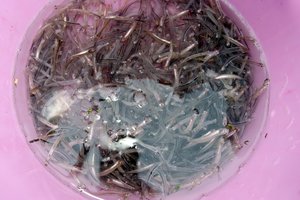 The much vaunted Great West Coast Whitebait Festival in Christchurch has left the Hokitika organisers $100,000 out of pocket.
The Westland District Council's business unit ran the event over Labour Weekend, drawing almost 4000 people.
However, the council chief executive Tanya Winter said only half of those were paying customers.
"We issued 1900 tickets for the day and preliminary results show the day ran at a $100,000 deficit," she reported to the monthly council meeting yesterday.
The remaining tickets were complimentary; to stallholders, advertisers, invited guests and media.
She said the numbers were still being "crunched" and full results would be available to the council at a later date.
Despite the financial loss, Ms Winter said the business unit was looking at repeating the festival next year.
"We have been approached by an organisation in Christchurch who want to have it again, maybe we can look at selling the idea or getting more on board."
The council did not contribute financially towards the festival, meaning the deficit will have to be covered from the council's events department budget.
Mayor Maureen Pugh, who attended the Christchurch event, said that despite the financial cost, it was a good day out.
"A number of stalls sold out of whitebait within a matter of hours. It was a successful day."
She said the 'Great Bait Debate' was popular as was the 'whitebait walk', where large panels documented the history of whitebait.
The business unit had budgeted to attract 5000 Cantabrians in order to break even, but had hoped for many more.
The $100,000 loss was met by relative silence from councillors, who then went on to debate for half an hour whether an apostrophe should be used on a road sign.