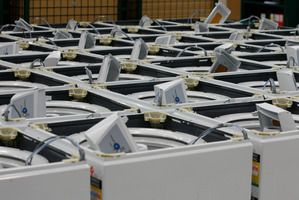 More than $700 million of shareholder funds could be freed up for reinvestment through the sale of Fisher & Paykel Appliances to China's Haier, and industry players say that should benefit stocks on the local market.
"There's going to be a significant amount of money coming through," said James Smalley, of sharebrokers Hamilton Hindin Greene. "You'd have to think some of the large cap stocks - the Telecoms and Fletchers of this world - will perhaps come in for a bit of buying."
Haier, one of the world's largest appliance makers, already has more than 50 per cent of the Kiwi manufacturer in the bag, having secured acceptance agreements from major shareholders Allan Gray, ACC, AMP and Harbour Asset Management.
It remains to be seen whether Haier will buy the rest of the company and de-list it from the exchange.
That outcome is looking more likely now it has effectively gained control of F&P Appliances and an increased offer price of $1.28 a share has the blessing of the board.
While a de-listing is not necessarily positive for the market, it will release funds that can be invested into other stocks.
At the latest offer price, a full takeover would put around $740 million in shareholders' pockets, although some would land overseas.
Mark Lister, head of private wealth research at Craigs Investment Partners, said cash freed up through the Haier deal was likely to find its way back into the local stockmarket, which has had a good run this year with the NZX-50 rising 20 per cent.
"There's quite a positive tone to the way our market's going," Lister said. "Rather than take that [F&P Appliances] money and put it on the sidelines I think you will see it invested, probably quite broadly across most of the good, blue chip stocks in our market that are in favour and doing the right things."
But Smalley said some shareholders, particularly retail investors who had a rough time with F&P Appliances, buying their shares when they were worth more than $3, might put their cash in the bank.
Others might hold on to their money in anticipation of the public floats of state-owned enterprises, he said. Mighty River Power could list early next year.
There was a strong appetite in the market for initial public offerings, Smalley said.
As well as the float of brewer Moa Group, a number of small IPOs are rumoured to be in the works.
"If you were looking to raise capital on this market, now would certainly not be a bad time," he said.
Haier's offer ends on November 6. Shares in F&P Appliances closed at $1.265 on Friday.