Pop-culture T-shirts have turned out to be a sweet career move for Rob Ewan.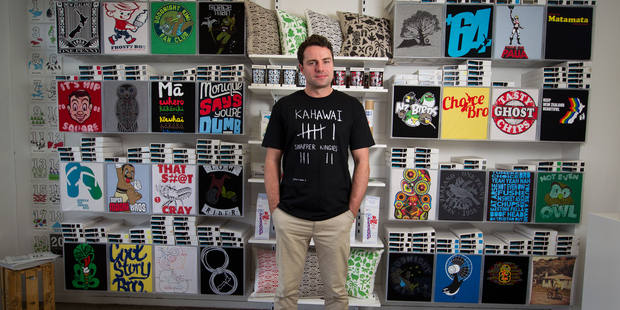 Parents of university dropouts, never fear. Mr Vintage entrepreneur Rob Ewan was in the second year of his Bachelor of Business Studies at AUT University when he decided to leave and set up his own business.
He had been buying and selling T-shirts on Trade Me and had found a niche.
"It got to the stage where it had taken over my bedroom and my life. I was going to university but I was not doing any work.
"I made the decision to just go and do it. I'd always been looking for an opportunity to go into business."
In September 2005, he incorporated the company, Mr Vintage, which now has a $3 million to $5 million turnover with eight full-time staff and six more working on a new project.
During last year's Rugby World Cup the Mr Vintage T-shirt that says "Keep Calm, Piri's On" was his top-seller of all time.
The entrepreneur wants his T-shirt collection for men, women and children to be a record of New Zealand's pop culture.
"We only want to do T-shirts that we think will be part of pop culture, that will be remembered 10 years from now," he says.
And the people contributing to the culture are benefiting, too.
Each time a Mr Vintage Nek Minnit T-shirt is sold, the skateboarder who made the phrase popular, Levi Hawken, collects a royalty fee.
The entrepreneur has a shop at the company's HQ in Great North Rd, and sells his brand in 12 stores throughout the country, including Real Groovy and designer T-shirt store clothesline.
He is also talking to Ballantynes in Christchurch.
Ewan is trying out a retail kiosk at Sylvia Park until Christmas.
He has about 1500 T-shirts packed into the specially designed kiosk and is also selling children's height charts, coffee mugs, cushions, tea-towels and kiwiana necklaces.
It's opening him up to a new market who have never heard of Mr Vintage.
Ewan is also in talks with Auckland International Airport about having a similar kiosk there. His T-shirts are in the gift market rather than the fashion market, he says. They make ideal presents for people visiting family overseas.
"We don't see the brand as fashion, it's more a lifestyle thing," he says.
The business also has several corporate clients including Coca-Cola Amatil, L & P, Wattie's and DB Breweries.
"We also work closely with Moa Beer. We do all their T-shirts. It's good for contra deals!" he jokes.
"As we've got bigger, we have become a corporate design and printing company," he says.
The entrepreneur has built up a team with whom he has regular brain-storming sessions. At social functions, he always gets unsolicited suggestions. "Everyone has a T-shirt idea!"
The entrepreneur employs a graphic designer as well as a marketing manager, Jay Govind, who runs the social media - Mr Vintage has 35,000 Facebook followers.
Ewan has a half-shareholding in the business with a silent partner.
Early next year he is moving the business, which has been averaging about 25 per cent annual growth, to a new warehouse, offices and shop in Morningside.
The premises will be four times as big as the current spot in Great North Rd.

Top tip
Work on the company culture. I believe the internal culture comes out in the brand and how we deal with customers. It's just so important.

Best achievement
Last year for the Christchurch earthquake, we did three different T-shirt designs, one a seismograph in the shape of Christchurch. We gave 100 per cent of profits to the SPCA, Victim Support, the Salvation Army and St John.
We raised $124,000. It's probably our biggest business achievement to date.