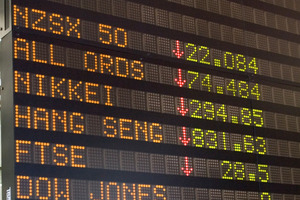 The strength of share markets, both in New Zealand and in other parts of the world, is being driven more by an investor shift away from fixed-interest markets than by improved growth prospects for stocks, says the head of global portfolio management for the US-based investment firm Pimco, Scott Mather.
With the New Zealand share market trading at around four-year highs, Mather said the strength of equity markets was based more on behavioural changes arising from very low interest rates, which was forcing investors to look higher up the risk spectrum for alternatives.
"Investors are being pushed out into the riskier and riskier assets, such as stocks," he said. "The question is, does it push people too far?
"When you look at equities, yes, they have done better, but is it because they are better than where they were projected to be a year ago? No."
Mather said price earnings ratios were growing as people became more comfortable with equities over fixed-interest investments.
"Whether that can persist, we doubt, because ultimately we think earnings will be lower than people forecast."
California-based Pimco is one of the world's biggest fixed-income managers, with US$1.8 trillion in assets under management.
Mather said the company's view is that the climate will get riskier for investments and world growth will remain low.
"If we are right about the world being riskier, with lower growth, it may mean that the equity risk premium should be higher in this environment."
For the year ahead, Pimco expects growth of just 1.25 per cent for the US and a contraction of 1.25 per cent for the eurozone.
Speaking at a briefing organised by Tower, which has funds managed by Pimco, he said "sovereign debt dynamics" were driving the world's bond markets.
"We continue to have a forecast for low growth as a reflection of structural factors and the debt overhang is one of the major issues." Inflation would continue to track lower than most central bank target rates.
Pimco expects interest rates in New Zealand and Australia to fall further because ongoing quantitative easing in the US would continue to put upward pressure on the Australasian currencies, which would in turn continue to counteract inflationary pressures.
Both currencies had enjoyed an enhanced "flight to quality" status, departing from their previous commodities-based links.

This story has been corrected from an earlier version. The second-to-last paragraph should have described upward, not downward pressure being put on the Australasian currencies.
- APNZ