Infosys hopes to build on its Gen-i deal and is looking at acquisitions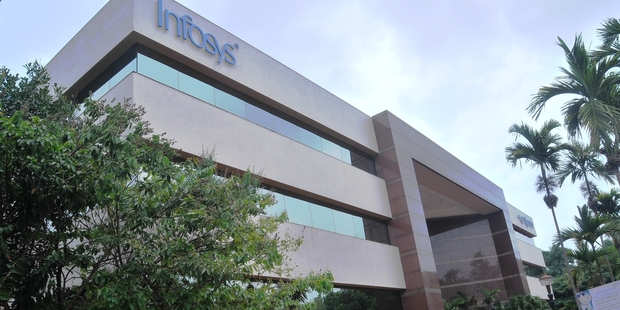 Within India's booming technology sector, the rise of Infosys is a corporate fairytale - and the IT powerhouse is eyeing acquisitions in New Zealand.
Seven software engineers with nothing but vision and a paltry US$250 ($305) formed a company in 1981 that today records billion-dollar annual profits and employs about 150,000 staff.
A pioneer of IT outsourcing, the Bangalore-based firm has clients in 32 countries across the globe and is now looking to flex its muscles in the South Pacific.
With a strong focus on research and development, Infosys is ranked by Forbes magazine as one of the world's top-20 most innovative companies.
The IT titan develops technology solutions ranging from back-end services for banks to tools for helping firms manage and track their online marketing campaigns.
It has more than 20 New Zealand clients and earned upwards of $50 million in revenue from them during the past financial year.
Its biggest play in this market came in June last year when it purchased Gen-i's software solutions business and signed a strategic partnership with the firm - Telecom's information-technology arm.
The deal trebled Infosys' New Zealand-based staff to about 150 and the Indian giant is now eyeing up further acquisitions.
Infosys' Australia & New Zealand chief executive, Jackie Korhonen, admits the company has been far more active across the Ditch and was late to make its move in this country.
However, she hopes that by leveraging its existing relationships with transtasman organisations, Infosys will be able to pick up more business in New Zealand.
"The financial services sector is one that springs immediately to mind because if you look at many of the banks and insurance companies in New Zealand they're part of Australian organisations," Korhonen said.
Infosys also hopes that through its partnership with Gen-i it will be able to pick up more business from the New Zealand Government, one of the country's biggest spenders on IT.
While Infosys is looking to hire more local staff, the number will depend on the business contracts it is able to win.
Although the country's struggling economy may limit the pace of the firm's foray into New Zealand, Korhonen was convinced the Infosys offering would be attractive to local companies.
"We've got a lot of access to global talent, to tools, to intellectual property, processes in world-class methodologies," she said.
"That's what we want to bring to bear in the New Zealand market and apply all the stuff we've done over the last 30 years to projects for our clients in New Zealand."
Former head of Gen-i Chris Quin believes New Zealand should look to land more partnerships with companies such as Infosys.
"They're world-class at it," he told the Herald this year.
Quin also noted that despite the sale of Gen-i's software business, jobs have stayed in New Zealand.
Although Infosys has worked with large organisations such as Telecom and Westpac, one of its board members, Srinath Batni, said there were huge opportunities for it to do more business with small New Zealand firms.
"If you look at New Zealand there are a lot of small companies, with very good innovative products being developed," Batni said.
"The problem for New Zealand companies is the access to the world market and today no one simply buys products ... customers want a solution around a product," he said.
"So there is a situation there where we can identify some of those products in some of the industries where we are very active and so we can create a solution using [a New Zealand company's] product and the product gets sold as part of our solution."
By using such an approach, Batni said, local companies could have a crack at markets they might have struggled to access on their own.
As well as commercial relationships, Infosys is also forming ties with New Zealand academic institutions.
The company is recruiting students from the University of Auckland for the first time this year for its InStep programme, which has been running since 1999.
According to one of the company's seven founders, co-chairman Kris Gopalakrishnan, taking care of employees is a key plank of the Infosys philosophy.
"We believe that once you create an institution ... you must look at longevity as one of the measures of success," Gopalakrishnan told the Herald from the company's headquarters in Bangalore.
"All the stakeholders, especially employees, need that long-term relationship with the company."
Similar importance is placed on maintaining strong relationships with clients and the community, and Gopalakrishnan said values of transparency and integrity dictated the company's whole operation.
"We want to earn the respect of all stakeholders," he said.
"In fact if you look at our mission statement, [our goal] was be a respected global corporation, that's it, we didn't say we'll be the largest, or the most profitable."
This doesn't mean Infosys has struggled either to grow or turn a profit.
At the same time as the West's economic engine has run out of steam, Infosys' business has raced ahead - its revenues doubling between 2007 and 2012 to US$7 billion.
And Gopalakrishnan was confident the company would continue to thrive.
"It's only our imaginations that's the limiting factor," he said.
"Because all aspects of our life - including medical healthcare and how we interact with each other - all of these are going to change in the next 30 years ... when there is so much change, there is also a lot of opportunity for creating new products, new services and business."
IT giant's education drive open to Kiwi students
Infosys' InStep initiative gives engineering or technology students the opportunity to travel to one of the company's facilities in India and immerse themselves in a research project with the company over two to three months.
Up to 12 students from Australasia may be selected for this year's programme and to make the trip this summer holiday.
Education is a core part of Infosys operations as it seeks to raise the skills of both its employees and the IT industry.
As well as its programme for international students, its Campus Connect initiative works with more than 400 Indian engineering colleges to improve the employability of students and "make a difference" to India's IT ecosystem.
"In 2005 [a survey] said only 25 per cent of graduates are employable ... our intent is to raise the industry readiness of the students coming so that the Indian IT industry can grow," said Srikantan Moorthy, a senior vice-president at the company.
All engineers who join the company get 23 weeks of training at the world's biggest corporate campus run by Infosys in Mysore.
The 136ha facility, with vast gardens, 60,000 trees, grandiose architecture and a floating restaurant, hosts 500 instructors and 200 classrooms. The thousands of trainees have access to swimming pools, music classes, bowling alleys and a cinema.
Hamish Fletcher travelled to Bangalore and Mysore this year as a guest of Infosys.