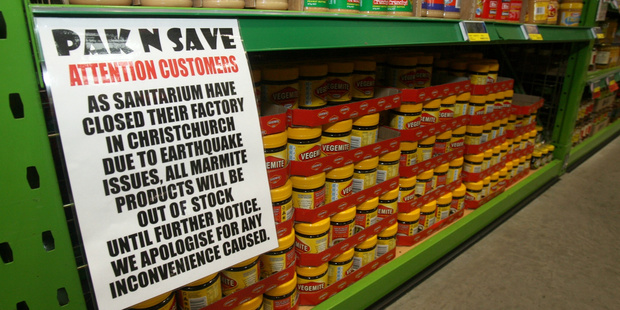 A Canterbury man is fighting to save his 2000-jar shipment of British Ma'amite from being destroyed, as a nationwide shortage of the spread continues.
Importer Rob Savage tried to bring about $12,000 worth of the UK-made Marmite, labelled Ma'amite, into the country in August.
The shipment was seized by customs at Lyttelton after Sanitarium claimed that selling it here would be a breach of copyright.
Sanitarium was forced to cease production of Marmite in March, following the closure of its quake-damaged Christchurch factory.
Savage, from Kaiapoi, said the UK-made Ma'amite was completely different to Sanitarium's product, and there was no breach of copyright.
The imported spread was labelled Ma'amite for a limited edition jar produced in honour of the Queen's diamond jubilee.
Discussions between the two parties over how to deal with the matter had broken down and Savage found out this morning the battle was now heading to the High Court.
Sanitarium filed legal papers in the High Court on Monday in a bid to destroy the shipment.
A Sanitarium spokeswoman, Helen Achilleos, earlier told nzherald.co.nz in August that the company had held the trademark for Marmite since 1929 and had invested in the brand since then.
Sanitarium said the company had been in talks with Mr Savage and had attempted on several occasions to negotiate a settlement.
A verbal compromise was reached but had not been formalised and "so it has unfortunately been necessary for this matter to progress to legal proceedings''.
Sanitarium was willing to continue talks with Mr Savage, but since he took confidential discussions to the media "presumably he has no further reason to delay a conclusion''.
Sanitarium encouraged competition and was not opposed to the products in question, said a spokeswoman.
"We would note that the English Marmite product is already freely available in New Zealand under the Our Mate trademark, so English expats can enjoy the taste of England without contravening New Zealand owned trademarks.''
Sanitarium announced on Facebook last week that although repairs to its Christchurch factory were progressing well, it was still unable to confirm when Marmite would be back in production.
Marmite was expected to return to shelves in July, but that date was pushed back to October after Sanitarium found further structural damage at the company's Christchurch factory.
The factory is the only one that makes the yeast-based breakfast spread.
As Marmite stocks began to dwindle earlier this year, the situation was dubbed "Marmageddon".
In response, Sanitarium began a "Don't Freak" campaign, including ads fronted by former All Black coach Graham Henry, amid a mass outcry over the shortage.
In April, Sanitarium threatened Bob Wren in Nelson for selling UK cereal brand Weetabix in his British goods shop.