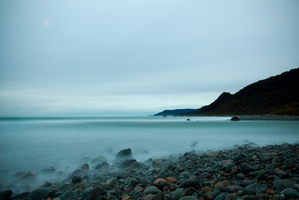 The sometimes wet West Coast is about to play on its reputation with a new marketing slogan, 'Just Add Water'.
A $100,000 national tourism campaign to encourage New Zealanders to experience the Coast will be launched tomorrow night.
Tourism West Coast is behind the initiative which will see the return of the 'Just Add Water' slogan, which was thought up last year but met with resistance from the public.
Tourism West Coast chief executive Jim Little said the campaign would specifically target domestic tourists, highlighting tourist hotspots like Punakaiki and the glaciers, while also focusing on lesser known destinations and activities.
"This will put the West Coast back on the radar as a holiday destination for Kiwis. So many New Zealanders don't realise the incredible variety of activities that are available on the Coast and what a stunning part of the country it is," he said.
The $100,000 campaign has been funded by Development West Coast and includes television advertising, outdoor billboards in Christchurch and Wellington, and a website upgrade.
DWC chief executive John Chang said the campaign was positive news for the region.
"The campaign will show how much Coasters enjoy our water and what fun and enjoyment we get from it."
Like other regions in the South Island the global economic downturn and Christchurch earthquake had affected visitor numbers to the Coast. When coupled with the Pike disaster, he said it was a good time to embark on a campaign like this.
"While there have been recent setbacks, we wanted to show our confidence in the Coast and the strength of its economy. This tourism initiative will remind the rest of the country we are still open for business and how wonderful and dynamic the West Coast is," Dr Chang said.
The four-week campaign begins on TV One on October 18. Viewers will then be directed to the website www.visitwestcoast.co.nz.