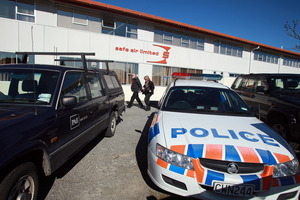 The punishment imposed on an Air New Zealand subsidiary after an employee died when he was sucked into a plane engine has been increased after an appeal.
Safe Air Limited, which specialises in aviation maintenance and repair, was fined $56,250 and ordered to pay reparation of $22,500 after a hearing in the Blenheim District Court in May.
The Ministry of Business, Innovation and Employment appealed against the punishment to the High Court.
"This case involved a serious failure which the ministry felt the fine originally imposed did not adequately reflect," southern general manager Jean Martin said.
In a decision released today the High Court increased the fine by $13,750, but did not change the reparation payment.
In May the Blenheim District Court heard that two employees were servicing an engine at Woodbourne Airfield.
A spokeswoman for what was then known as the Ministry of Labour, Jean Martin, said the engine being serviced was mounted on a testing site and accessible from an elevated work platform.
With one employee at the computer in the control room, Miles Hunter, 51 went outside to check the engine. To access the right hand side he had to walk in front of the engine, past the air intake.
"When the employee maneuvered in front of the engine he wasn't holding onto the handrail around the edge of the platform and was pulled into the engine," Ms Martin said.
Mr Hunter joined Safe Air in 2005 and had been around machines and engines his whole working life.
He had previously been a motorcycle mechanic and put himself through the Nelson Marlborough Institute of Technology to prepare for a career with the company.
At the time of the incident an Air NZ spokeswoman said the Rolls Royce C-130 Hercules turboprop engine was being tested without its propellers on a remote stand.
A turboprop engine is a combination of a jet engine with a propeller on the front, she said.
- APNZ