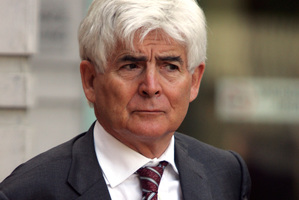 Despite being struck-off, embattled lawyer Barry Hart was back at the Auckland High Court today - this time fighting to keep the last of his rural properties from being sold by the bank.
The ANZ Bank has sold all but one of Hart's rural properties to pay-off the lawyer's $30 million debt.
Lawyers for the bank are asking the court to order Hart and any livestock off the property. If the bid is successful, the 71-year-old will have 14 days to get out.
Hart's 46-year career in criminal law ended last month when the Lawyers and Conveyancers Disciplinary Tribunal found him guilty of three charges of misconduct and struck him off.
Today he sat next to his lawyer Monika Porner who told the court that the bank had not followed due process when it sold the farmland and lifestyle blocks in Waimauku, 25km north of downtown Auckland.
She also argued that a six-week marketing campaign by real estate company Bayleys was not long enough.
Hart himself told the court his sister had offered to buy the last of the properties for "more than the property's worth", but the bank had not responded to the offer.
"It's a big deal to be kicked out of your home, particularly when you're doing your best and when a family member is offering to buy it, which gives the bank security and which gives us something to look forward to."
In response, ANZ lawyer Laura O'Gorman said the bank had received a "significantly higher" offer for the property than the offer from Hart's sister. She said the sale was conditional on the property being vacated by Hart.
Ms O'Gorman said there were sensitivities about revealing the identity of the potential purchaser "because they're concerned about harassment".
Responding to criticism about the Bayleys' marketing campaign, Ms O'Gorman pointed to other cases before the court where less time had been taken by real estate companies to market properties. She also listed a series of publications where advertisements for Hart's properties had appeared.
She said Hart refused to allow Bayleys onto the properties to do appraisals, and did not supply information on them despite a representative saying that he would.
Ms O'Gorman said Bayleys was forced to gather its information using aerial photographs and from the roadside.
She told the court the bank had made every attempt to get the best possible price for the properties.
Associate Judge, Justice David Abbott has reserved his decision.
Hart was recently in the news after it was revealed his fleet of luxury cars, including an Aston Martin and a 2011 Ferrari California, had been seized by debt collectors and were put up for auction last month.
- APNZ