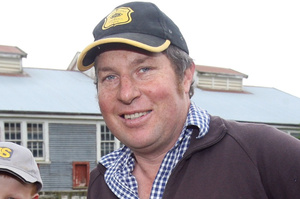 The new president of Federated Farmers in Wairarapa is aiming to make sure local farmers have their voice heard.
Bideford's Jamie Falloon was voted in on Tuesday night by the executive committee to replace outgoing president Paul McGill, who is taking up a position at Landcorp in Wellington.
Mr Falloon, 43, lives in Bideford with his wife Georgie and three children Joe, 9, John, 6 and Anabelle, 4.
He was born and raised at Bowlands station and has returned to run the 850-hectare property with its 8000 sheep and cattle.
After finishing school in 1986 he left the area to pursue education and work experience elsewhere but never forgot Bideford.
"My parents encouraged us to do whatever we wanted to do but I always worked on the farm in the holidays.
"I always felt connected to home."
With three degrees in accounting, forestry and management, Mr Falloon has worked in forestry, horticulture and aggregates.
He thinks agriculture is a great career path.
"The good thing about agriculture is there are opportunities for young people throughout the industry. There's a place for everyone."
Mr Falloon, a member of the farming reference group for the Greater Wellington Regional Council, loves some aspects of the job and finds others tough, like many farmers.
"The best thing is that you are your own boss and you have got control of a multimillion-dollar business.
"Farming is a challenge and you get rewarded for your ability.
"But the environment is a big challenge - you can have a bad week of weather which can ruin your whole year."
He said he planned to act on behalf of farmers where help is needed - with water, roading and the economy the big topics.
"Farmers are facing some big issues with regards to water quality and water use," he said.
"The impact of local government changes could have a significant effect on farmers.
"It's important to make sure farmers are involved in governmental processes and that farmers are maintaining their economic well-being."
Mr Falloon's father John Falloon, who died in 2005, was a former Minister of Agriculture for the National Government.
Jamie's wife, Georgie, owns and operates Willow Shoes, a company that now has four shops across New Zealand.
For more articles from this region, go to Wairarapa Times-Age