Australian parent company Arrium says it will use money from the sale to reduce debt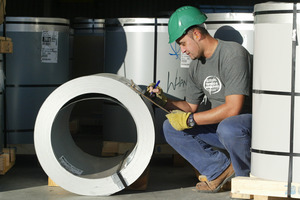 Just over half the shares in steel products distributor Steel & Tube were snapped up in a matter of hours after they were put up for sale by its parent company, Australia's Arrium, say the deal's underwriters, Craigs Investments Partners.
Arrium, formerly OneSteel, had earlier decided to sell its 50.3 per cent stake in Steel & Tube for $91.2 million, with Craigs underwriting the sale at $2.05 a share - a 15 per cent discount to Tuesday's closing price.
"We underwrote the deal and we were highly confident that we could get it done quickly and that proved to be the case," said John Moore, head of equity capital markets at Craigs.
The stock closed down 20c yesterday at $2.22.
In New Zealand, total steel demand is about one-quarter down from where it was before the global financial crisis.
In August, Steel & Tube reported a 23 per cent fall in annual profit to $13.1 million as dwindling demand and stiff competition squeezed margins.
Arrium said proceeds from the sale, which will add to A$120 million raised from asset sales, would be used to reduce debt. Steel & Tube has a history of having big chunks of its stock tied up with one owner. Fletcher Metals bought a 24.9 per cent stake from British Steel in1980.
Since then, Tubemakers of Australia, the BHP offshoot, held a major stake. Steel & Tube then became part of BHP before BHP split off its steel-making interests in the form of OneSteel in 2000.
Late in 2008, on the cusp of the global financial crisis, OneSteel made an offer to buy the remaining shares in Steel & Tube, at $4 a share but the company pulled its offer when it became clear world markets were about to tank.
Fund managers said a lack of liquidity in the stock had in the past acted as a disincentive for investors, but Moore said the company now had a diverse spread of mostly local institutions and private investors on its register.
Rickey Ward, domestic equities manager at Tyndall Investment Management, said a broader shareholder base would help Steel & Tube's case for its inclusion on the main share index, the NZX 50.
Underwriting fees for share placement deals vary, but the norm is about 2 per cent of the total transaction, potential making the deal worth around $1.8 million to Craigs.
- APNZ