North Shore leaders say private developer's scheme would save ratepayers' money.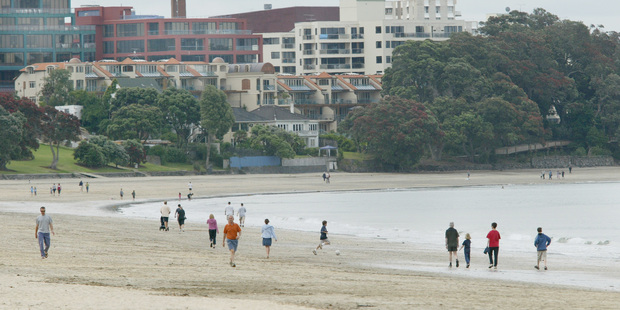 North Shore civic leaders have criticised Auckland Council's plans for Takapuna beach and are backing richlister John Copson's $250 million development scheme.
Julia Parfitt, Hibiscus Coast and Bays Local Board chairwoman, and Margaret Miles, Upper Harbour Local Board chairwoman, are worried about relatively unknown council plans to expand the beachfront reserve by expensive prime private land purchases.
But Chris Darby of the Devonport Takapuna Local Board and John Dunshea of the council say options are still being discussed and nothing is decided.
Darby says Takapuna is New Zealand's best urban beach and enhancement is the aim. Nothing was stopping Copson applying for resource consent, he said.
But Parfitt and Miles said ratepayers faced big increases and they worry about how the council spends development contribution money.
Copson's scheme could transform the area and achieve precisely what the council has sought for many years, they say, turning buildings to face the beach.
Parfitt and Miles said they would not usually comment on an area outside their own but Takapuna was such an iconic beach for the entire Shore area and ratepayer money was at stake.
Parfitt said her area was particularly fast-growing so how money in the region was used affected the entire North Shore.
Parfitt, an ex-North Shore deputy mayor, said she and Miles were Shore councillors for 15 years and always strived to turn Takapuna's heart to face the beach.
Yet Copson proposed this without a cent of ratepayer money.
They are worried about a scheme Copson claims could cost the council $100 million to straighten The Strand on the waterfront and run that road through the centre of his land, ruining his plans.
"Why would the council consider doing something like this when times are so difficult and so many ratepayers are suffering rates rises?" Miles asked.
"How can the council justify being involved when the [Copson] development is going to provide an outcome everyone has sought?"
Parfitt agreed: "We've longed for a white knight to change the area."
"This is outside our local board areas but it has implications because of the catchment for spending," she said, referring to development contributions.
They object to The Strand being straightened, saying its organic form following the beach was quirky and natural.
Parfitt paid tribute to ex-Shore mayor Ann Hartley for buying private houses to create the existing 4.3ha reserve.

Watch it grow
*400,000 new Auckland region houses expected by 2040.
*25,000 to be in the Hibiscus and Bays area.