Special Report: This week, the Business Herald examines New Zealand's investment relationship with China and looks at the direction it is developing.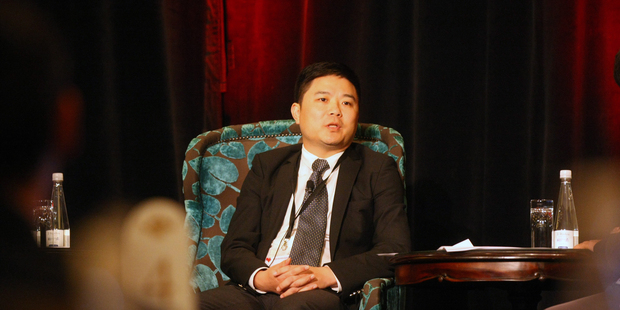 The Chinese conglomerate that bought the Crafar Farms this year is not ruling out the possibility of buying more New Zealand dairy land to fuel its exports to China.
Shanghai Pengxin chief executive Lei Jiang said the firm had no "concrete plans" to buy additional farmland at present but would want more milk from this country in the future.
He said the Shanghai-based firm was talking with several partners, including Fonterra, about setting up a dairy processing plant in the Bay of Plenty near its farms.
The plant, on which Lei hoped construction would begin early next year, would produce dairy products, primarily UHT milk, for the Chinese market.
Shanghai Pengxin, through its local subsidiary Milk New Zealand, has plans to invest $100 million into upgrading its farms.
Speaking through an interpreter on the sidelines of the China Business Summit in Auckland, Lei said the company planned to make further investments in New Zealand in infrastructure, vineyards, forestry and real estate development.
It was revealed last month that Lei's brother Zhaobai Jiang, Shanghai Pengxin's billionaire chairman, is behind a $550 million plan to develop Gulf Harbour on the Whangaparaoa Peninsula.
Lei, who visited Whangaparaoa while in Auckland last week, said the company wanted to improve access to Gulf Harbour through investing in infrastructure such as roads and bridges.
And Shanghai Pengxin is also negotiating with Fonterra over establishing a dairy farming partnership in Anhui province, near Shanghai.
"We have chosen a place and Fonterra is happy with that," Lei said.
He said the New Zealand dairy giant would benefit from the partnership through using Shanghai Pengxin's "channels" to promote its brands and products in China.
"We can use Fonterra's expertise to improve our farming system in China."
Addressing last week's summit, Fonterra chief executive Theo Spierings confirmed that the co-op was in talks with Shanghai Pengxin over the venture in Anhui province.
"We want farms close to the big cities," Spierings said.
Fonterra operates three farms around Beijing and is preparing to add two more to form a "hub" of 25,000 cows around China's sprawling capital.
In his address to the summit, Lei said Shanghai Pengxin was interested in working with Maori.
"Maori people are asset rich and they have lots of resources. In China we have a big network and we know the distribution channels. The key thing is how to work together and get Maori people's products into the China market and get value added."
Jamie Tuuta, the Maori Trustee, led a group of Maori business leaders to China recently, where they met Zhaobai.
"There are huge economic benefits and opportunities for not only NZ Inc but in particular Maori where we can work with Shanghai Pengxin to basically produce and manufacture products that could be channelled through the retail channels that Shanghai Pengxin have available [in China]," said Tuuta.
He said Maori produced 10 per cent of New Zealand's milk solids output.

Shanghai Pengxin
*Founded in Shanghai in 1997.
*Has interests in agriculture, real estate development, infrastructure, construction and mining.
*Bought the 16 Crafar Farms out of receivership this year after fending off a counter-bid led by Sir Michael Fay.

Coming up this week
Protecting intellectual property
Making the most of Chinese tourism
China's impact on the property market
The China paradox - Fran O'Sullivan
Click here to see a video on doing business in China