Speculative funds are making life tough for Chinese giant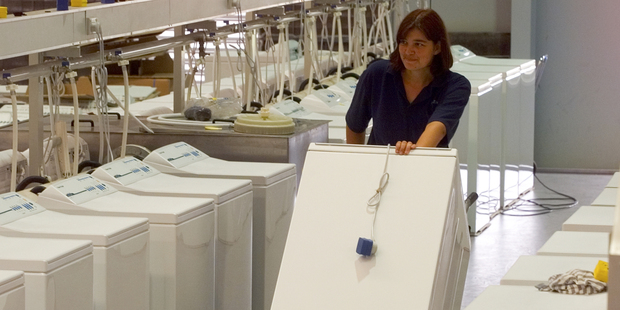 Global hedge funds are set to play a pivotal role in Haier's takeover battle for Fisher & Paykel Appliances.
And one market commentator says the speculative funds are already hindering the Chinese whiteware giant's attempt to fully acquire the New Zealand firm.
Grant Samuel's independent report on the Chinese whiteware maker's takeover offer, released yesterday, said the funds had snapped up close to 10 per cent of the issued shares in F&P Appliances during the heavy trading that has taken place since the takeover bid was launched.
Qingdao-based Haier, which already owns 20 per cent of F&P Appliances, is offering $1.20 a share for all the shares in the firm it does not already own.
It has secured the support of Aussie fund manager Allan Gray, F&P Appliances' second biggest shareholder after Haier, giving it a 37.46 per cent interest in the Auckland whiteware maker.
"The Haier offer can be reasonably expected to gain sufficient traction to reach the 50 per cent acceptance threshold if the hedge fund shareholders elect to sell into the offer," the independent report said.
But the independent report also valued F&P Appliances in the range of $1.28 to $1.57 a share, prompting its board to advise shareholders to reject Haier's offer.
Hedge funds would likely hold on to their shares in anticipation of Haier increasing its offer price, said Brian Gaynor, executive director at Milford Asset Management.
Market commentator Arthur Lim believed talks would already be taking place between Haier and F&P Appliances' board over a second offer.
"It wouldn't be a good strategy to make your first bid your final bid," Lim said.
He said hedge funds could assist or frustrate takeover bids and in this case it appeared they were hindering Haier's attempt to acquire the New Zealand company. It would have been hedge funds and fund managers that were "mopping up" F&P Appliances' stock yesterday - in anticipation of Haier boosting its offer - pushing the firm's share price above Haier's offer price, he said. It was affecting the Chinese firm's takeover bid, Lim said, because shareholders could sell into the market at a better price than they would get from accepting Haier's current offer.
Shares closed up 4.5c at $1.25 last night.
Gaynor said it was highly unlikely that Haier would be able to pull off a full takeover with its $1.20 a share offer and the company would have to offer at least $1.35 a share in order to gain a sell recommendation from F&P Appliances' board. "We [Milford] will certainly not be selling at $1.20, definitely not," he said.
Sam Stubbs, chief executive of Tower Investments, which manages a 3.68 per cent stake in F&P Appliances, said his firm would wait and see what action was taken by other shareholders.
"$1.20 is clearly too low," Stubbs said.
Haier said the independent valuation was "overly optimistic" and did not take into account the risks contained in F&P Appliances' five-year plan.
Mark Lister, head of private wealth research at Craigs Investment Partners, said that if Haier secured between 50 per cent and 70 per cent acceptance the company might be happy sit on that and launch another offer at some point in the future.
If Haier secured more than 50 per cent but did not achieve full ownership, then F&P Appliances would remain listed on the NZX but the Chinese firm would gain the ability to appoint directors. The offer closes on November 6.
Hedge funds aim to make money on rising and falling markets all over the world
Hedge funds are investment vehicles which aim to make money off rising and falling markets through managing risk exposure, or hedging.
The funds, of which there are thousands around the globe, are run by a manager who is often the person who set up the fund and takes a percentage of its profits.
Hedge funds are able to benefit from falling markets through "shorting", a complex financial procedure requiring trading in derivatives, such as equity futures.
Their investors are usually institutions, such as pension funds, but they can also be backed by wealthy individuals.
Milford Asset Management's Brian Gaynor said that in addition to their investments in local takeover target Fisher & Paykel Appliances, hedge funds would be holding similar positions all over the world.
Hedge funds invest in a range of assets. Global cocoa prices soared in August 2010 after hedge fund manager Anthony Ward bought 240,000 tonnes of cocoa beans.