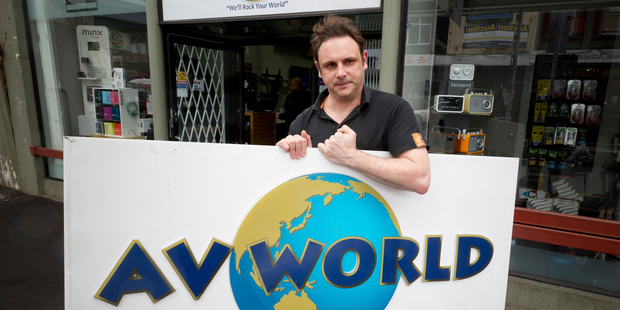 In lean times for retail businesses, Paul Halliwell was reluctant to remove a $6000 sign that led customers to his audio visual goods shop on Dominion Rd, Auckland.
But that was Auckland Council's instructions during an enforcement blitz of bylaw breaches in the Eden Valley special character area.
"It was up for 18 months but we took it down, because we didn't mean to do anything wrong," said Mr Halliwell yesterday.
The type of sign is called a "tavern" and sticks out above the shop veranda to catch the eye of people coming along the street.
Tavern signs are banned in a special character area such as the Valley Rd corner.
"But this is a 1970s building and it's stepped back 3m from the footpath," said Mr Halliwell.
"A lot of people miss us."
Dominion Rd Business Association manager Gary Holmes said the special character rules were designed to protect historic buildings.
"It's not to stop people making a living."
Three shops were given a week to remove signs despite the association's appeal for leniency.
However, Mr Halliwell said he was told by a council compliance officer that there was no point in AV World applying for a special dispensation.
"He said we would be wasting the $750 fee."
Mr Halliwell said he was puzzled by the existence of tavern signs on other businesses in the area, including one showing a brand of beer.
"What about the big boys who have opened up and got bigger signs?" he said pointing to a new black sign on the ASB building.
An Auckland Council spokesman said shop owners could apply for a hearing on dispensation. But council officers would not support the present signs because of "adverse effects on the character of the area".
Special dispensation was granted for the signs on the BNZ and National Bank in 2008 and 2006 by the former Auckland City Council.