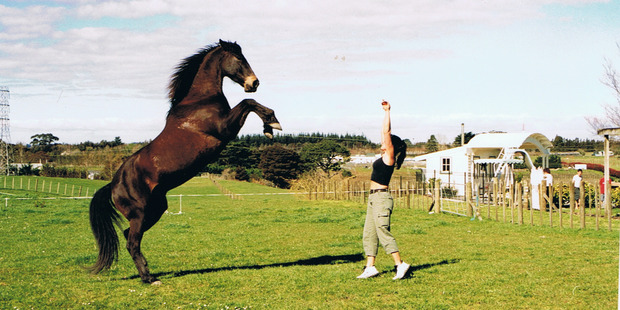 National Bank's iconic horse Cody has died.
News of Cody's death emerges in the same week that ANZ announced that its National Bank brand will be absorbed into the parent company, so the black horse logo will disappear, and Cody will no longer gallop across TV screens.
As news of the merger broke, social media erupted with talk of what would happen to the beloved stallion. ANZ repeatedly assured customers and the public that Cody was happily grazing in a Waikato paddock.
"At the time those comments were made, we were unaware of Cody's sad passing," Stefan Herrick of ANZ said yesterday. "He was a fantastic mascot and a fine actor and will be missed by everyone."
In an exclusive interview with the Herald on Sunday, Cody's owner and trainer Bex Watts said she was devastated at having the animal she called her best friend put down.
"It broke my heart. He had been unwell for quite a while. He was 17 years old, which is a decent age for a big horse that has had an active life, but he had internal tumours."
Watts hasn't spoken publicly about Cody's death, but she said the bank announcement made the time right.
She said Cody enthusiastically developed his signature National Bank pose, in which he reared up on hind legs.
"He actually did that in play with me in the paddock and I taught him to do it on command."
Besides his National Bank work he appeared in numerous films and TV shows including as a horsey extra on Xena Warrior Princess, and as Catastros in Power Rangers. He was also in ads for Lexus, Toffee Pops, Yakult and more.
On set and while training he devoured "sweet feed" a special equine muesli high in molasses.
"It's been hard because even though he's not in my front paddock any more, I see him on TV all the time. The black horse has been this icon of stability, strength and trustworthiness for so long. There are so many people who go to the National Bank because they like the black horse symbol and the ads."
Cody, whose colour was enhanced for the ads, was in all the ads over the past five years, except for one set in an Argentine village.
"It's very sad and the end of an era," Watts said. "The National Bank was so lucky to have that logo, I don't think they ever realised that people loved that horse that much."
He filmed his last ad for the bank in 2010.