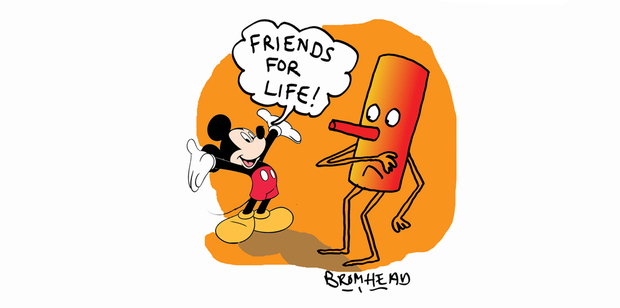 There would be general agreement among my friends that I represent a very advanced case of arrested development.
How else can I explain a fresh round of fatherhood duties when my contemporaries are all moving into retirement compounds?
I use the term "compound", rather than "village", simply because the term is closer to the original Malay "kampong", meaning a confined area - or open prison.
In my case, when bewilderment kicks in, the caregiver will be spared the pain of incarcerating me in a home for the feeble, having arranged for my legal executors to discreetly release me into the undergrowth of a public park, such as the Auckland Domain, to enjoy the uncertain fate of an unwanted cat.
In the meantime, there is the problem of holding adult conversations with other grown-ups, at a time when my children have reduced my ability to intelligently converse on anything but Mickey Mouse Club matters.
Of course, Mickey and I have been around since long before television brainwashing was invented. Making his appearance in the late 1920s, the mouse was well established by the time I commenced viewing movies such as Steamboat Willie, the first Mickey movie, produced in glorious black and white.
Strangely, I've never been an enthusiastic fan of Disney's cartoons. Even from an early age, I questioned the oddities of the various caricatures.
I recall, for example, asking my mother: "If Pluto is a dog and Goofy is well, sort of a dog, how come they don't sniff each other's bottoms when greeting each other, like normal mutts?"
I also recall being sternly told not to ask "such disgusting questions".
Today, the same puzzling questions still present themselves. For example, dwelling on Pluto, whatever happened to his girlfriend, Fifi the Peke, who at some stage produced puppies? And how does Mickey cope with his tail when removing his trousers? When I attempt to raise these issues in my local cafe, casual acquaintances tend to move away.
There are a number of other matters never convincingly explained.
I recall the movie Mickey's Nightmare (1932) in which the mouse believes he's married Minnie and produced lots of mouse children. He wakes, swearing never to marry.
So, what's with the same cosy relationship still going on in today's clubhouse?
According to the late Walt: "There's no marriage in the land of make-believe. That way Mickey and Minnie can live happily ever after."
Shame I didn't think of that, before tying the knot again.