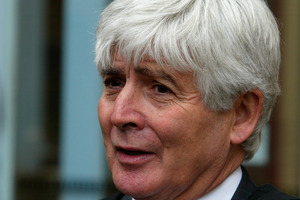 Disgraced lawyer Barry Hart will not be allowed to represent clients while he appeals against the legal decision that ended his 46-year career.
In a judgement released today, Justice Graham Lang found it would be impossible to protect possible clients of Mr Hart if the 71-year-old was allowed to continue as a lawyer.
"The need to protect the public is paramount,'' Justice Lang said.
The Law Society's prosecutions manager Mark Treleaven said Justice Lang's decision reflected Parliament's aim to protect the public, despite the "consequential hardship'' for Hart.
However, Justice Lang has allowed Hart to appeal against the Lawyers and Conveyancers Disciplinary Tribunal, which found him guilty of three charges of misconduct earlier this month and struck him off.
Hart was found guilty of unsatisfactory conduct for overcharging on two occasions in 2010 and again a year later.
An appeal hearing has been set down for December.
Hart lawyer is also appealing against a tribunal order that he repay costs of $160,000 and $20,000 to the family of one of the clients he over-charged.
At the hearing yesterday, the High Court at Auckland heard from Hart's lawyer Jeremy Bioletti who said his client's practice would be over if he could not represent his clients and they would be adversely affected.
Law Society Standards Committee lawyer Jan McCartney SC said Hart had already had plenty of time to tell clients he was facing disciplinary proceedings and ran the risk of being struck off.
She said the High Court could allow Hart to continue acting as a lawyer only if it found the tribunal had been "wholly wrong'' and that was not the case.
In response to the claim that Hart's business would be ended, Ms McCartney said the High Court had acted quickly to give Hart an appeal date in December.
She said many of Hart's upcoming court appearances were for minor matters and could be carried out by other lawyer.
"There is an issue of protection of the public. The practitioner has been found to be not a fit and proper person.''
She said there was a concern that other people could be put at risk if Hart was allowed to continue his practice.
"The tribunal held that Mr Hart exploited the vulnerable; and those are the very people Mr Hart seeks to continue to represent.''
In reply Mr Bioletti said the case had developed an "element of hysteria''.
"With the amount of publicity, surely anyone who is represented by Mr Hart could walk out of the situation.''
In its disciplinary decision, the tribunal said Hart's case was aggravated by his "poor disciplinary history'', which included seven previous findings against him.
One for "gross overcharging'' was 30 years old, but identical in nature to the latest case.
The pattern of behaviour meant the tribunal had "no confidence in either his rehabilitation or protection of the public by ensuring there is no risk of reoffending''.
"We accept that striking off, particularly in a practitioner of such seniority, is a last resort response,'' said chairwoman Judge Dale Clarkson.
Hart has also lost his multimillion dollar properties north-west of Auckland after owing $30 million to the ANZ National Bank.
It has also been revealed that his fleet of luxury cars - including an Aston Martin and a 2011 Ferrari California - have been seized by debt collectors and will be up for sale at a Turners auction this weekend.
- APNZ