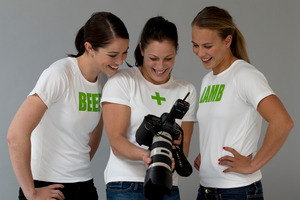 An odd look appears on Sophie Pascoe's face when she is asked what the "plus" sign on her shirt means.
She is sandwiched between fellow athletes Sarah Walker and Lisa Carrington, who are wearing "beef" and "lamb" respectively.
The group roars with laughter when it is suggested maybe Pascoe is the veges - or the bread.
The 19-year-old swimming sensation, who won three gold and three silver medals at the London Paralympics, is the new face at Beef + Lamb NZ, joining BMX silver medallist Walker and K1 gold winner Carrington as sports ambassadors.
Dubbed the organisation's "iron maidens", they will appear on billboards and in television and print advertising campaigns to promote the importance of a healthy diet that includes lean red meat.
"It's really exciting for me and it's cool to be working alongside Lisa and Sarah, who are great athletes and role models," Pascoe said.
"Beef + Lamb has given lots of different Olympians great exposure and it's so nice to include a Paralympian now.
"It's a big way to promote Paralympics and that's great stuff," she said.
The women were in Auckland yesterday for their first photo shoot together.
Carrington and Walker said it was great to be able to work alongside Pascoe, who had achieved so much as a young athlete.
Walker, who has been a Beef + Lamb ambassador for four years, said: "It's easy because we're friends outsideof sports so it doesn't feel likework."
Pascoe said her family was still very much on a high after her success in London.
But it was all still surreal for her.
She carries one of her gold medals wherever she goes to show people who continue to recognise and stop her on the street.
"A lot of people ask me about [the medals] and so I want to show them one because they are the ones who have supported me.
"That support means a lot to me, and I'm sure it means a lot for everyone when I show them."