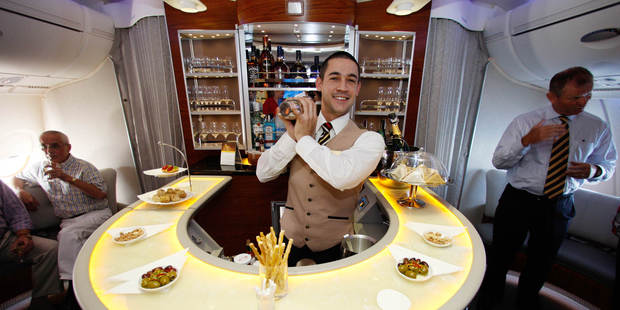 Emirates is still nailing down details of what its global partnership with Qantas will mean for transtasman travel but one thing's certain - another of the airline's super jumbos is about to touch down.
From next Tuesday a second Airbus A380 will start flying between Auckland and Melbourne and on to Dubai, replacing a 354-seat Boeing 777-300ER and adding 135 seats a day to the route.
The airline started using a double decker aircraft on its Auckland-Sydney service in early 2009.
The 10-year Emirates-Qantas deal promises to help the Australian airline out of a financial black hole on its long routes and offer dozens more destinations in Europe and Africa via Dubai.
Emirates manager for New Zealand & Pacific Islands Chris Lethbridge said there was no sign of consolidation on the Tasman.
"There's been a lot of groundwork done," Lethbridge said. "We're understanding what can be done; what we're looking for is more seamless travel."
He said the second A380 was being used on the Tasman and on to Dubai because of demand out of Australasia and because the aircraft was very efficient.
"The Tasman is only part of the story, a lot of our business goes beyond Australia."
About 70 per cent of revenue from here comes from long-haul operations, the remainder from Tasman traffic. The airline has about 1.2 million seats in the market.
Most transtasman flying was for leisure, premium leisure and visiting friends and relatives.
Because of its once-a-day frequency the corporate travellers often only went one way with Emirates, returning on another carrier.
Although it's been flying A380s for four years, Lethbridge said the plane still had the "wow factor".
Freight makes up about 20 per cent of Emirates' business and the airline has capacity for up to 40 tonnes each way across the Tasman.