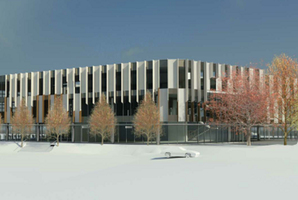 A three-level commercial development in Hamilton East's heritage precinct is to be built where a two-level shopping complex drew strong community opposition four years ago.
The latest proposal for the Eastgate development on the corner of Clyde St and Grey St was last week granted resource consent. There is space for two retailers and a cafe on the ground floor, and offices on the second and third floor.
Construction will begin next year and is expected to take 12 months. The building is much smaller in scale but one level higher than the developer's 2008 plans for a two-level retail complex with 40 shops.
Developer Barry Livingston said the new focus on office space was a result of speaking to the community trust, the council and the Church of the Blessed Virgin Mary about what they wanted.
Hamilton East Community Trust chairwoman Lois Livingston, whose group strongly opposed having a large-scale shopping centre on the community-zoned site due to traffic concerns, said the developer had this time consulted the trust over the latest plans.
"We are disappointed it ever happened in the first place. We are pleased it is being set back [from the road] more than it was before and they are going to be planting some large trees around the development."
The trust unsuccessfully appealed the original plans at the environment court. However, the city council awarded it $48,000 towards legal costs after independent advice found the council's processes in granting the first consent were flawed.

Blueprint finalised
2008 proposal:
2 level shopping centre plus offices, healthcare services and courtyard
153 parking spaces (75 at basement level)
2011 proposal:
1 level development
1201sq m of retail space and offices
91 parking spaces
Current proposal:
3 levels with 346.5sq m of retail space
3717sq m of office space on 2nd and 3rd floors
187 parking spaces in basement and rear of building