The ANZ Bank's branding was everywhere, but Valerie was still the star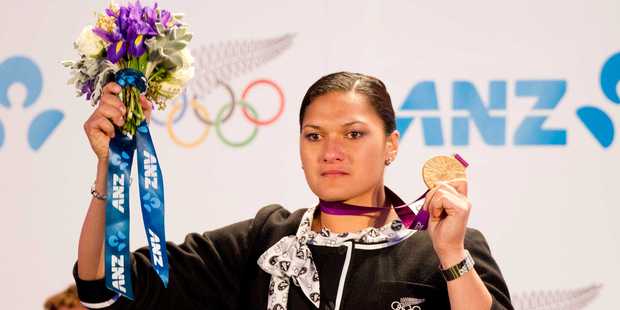 There is a fine line between acts of corporate goodwill and brand narcissism. This week, the ANZ Bank flirted with that line when generously paying for the waterfront gold medal ceremony for Olympian Valerie Adams.
At times, it was difficult to tell whether Big Val or the big blue host was the focus of attention as the bank "leveraged" its Games sponsorship into the nation's living rooms and computer screens in live broadcasts and via the web.
A tipping point came when Adams received, with her medal, an Olympic-style floral bouquet awkwardly adorned with blue bank ribbons and branding. But that excess did not feature long, as Adams heaved it into the crowd.
When the national anthem was sung the golden shot-putter stood before a backdrop of ANZ logos on an ANZ podium. Yet the ceremony managed to remain on the side of sporting virtue. The hoisted flag was a cleanskin, the Governor-General above commerce and Adams herself gloriously unbranded.
No marketing gimmick could attach itself to the purity of national pride that ensued.
There is an argument that a mass, daytime event at a major sports stadium might have been more appropriate given Adams' large young fan base.
But Wednesday night's invitation-only function was "triumph" enough in the sparkling eyes of the Olympic champion. From heartbreak five weeks ago, the organisers brought her special joy.