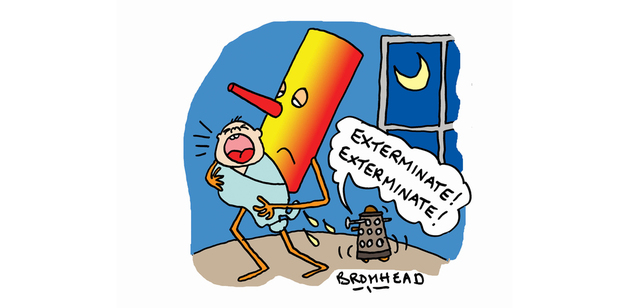 Now and again, spam pops up with an invitation more mind-boggling than a mere invitation to improve my sex life.
The latest offer, from Britain, is for a booklet called How to Join the SAS.
I'm mystified why anybody in cyberland believes I'm a candidate for the bugle call again.
The marketing gurus may have been fooled by the distinguished "military Bromheads" on websites, adjacent to the effete "cartoonist Bromhead".
When you share a family name with Gonville Bromhead, VC, noted for killing several thousand Zulus at Rorke's Drift, whose father, Sir Edmund, fought at Waterloo, and whose grandfather was the highly decorated Lieutenant-General Sir Gonville Bromhead, who served in the American War of Independence, one might misguidedly believe the blood running through the family veins could be a shade of khaki.
But looking at the basic criteria for joining the SAS, I fear I might fall short on physical fitness.
Short doggie strolls around the Parnell Rose Garden might not be enough to prepare me for gallivanting around fog-bound Welsh mountains in full combat kit.
But the mental tests are a different matter. As part of the filtering process, SAS candidates are incarcerated in small iron sheds, manacled and blindfolded, and subjected to hours of horrendous noise, while being continuously doused with buckets of cold water.
This seems like a picnic, compared with living with a small child who not only guarantees round-the-clock sleep deprivation, but then persecutes me during the small hours with a level of screaming that is beyond measurement.
Recently, for example, with the child finally pacified after another sleepless night, he rewarded me by urinating all down my front simply because I hadn't put his nappy on correctly. This led to some frantic running around a darkened bedroom, trying to recover a dire situation. Unfortunately, I accidentally stepped on my older son's battery-operated Dalek, which immediately leapt into life, snarling "Exterminate! Exterminate!"
This disturbed the dog, which started barking as he tried to catch the robot, which had disappeared under the matrimonial bed, still hell-bent on finding something to exterminate.
With the baby screaming again and the caregiver now grumpily awake, I was then subjected to a humiliating dressing down of the "can't you for once do anything right?" variety.
Try subjecting your SAS recruits to that sort of mental pressure and you'll soon discover how to make hardened military men weep.