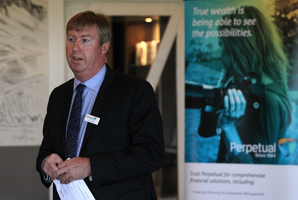 Perpetual Trust, owned by NZX-listed Pyne Gould Corporation, is one of three applicants yet to find out if they will receive a licence to continue operating to protect the interests of investors and the residents of retirement villages.
The Financial Markets Authority yesterday issued licences to nine trustees after a rigorous approval process which assessed the character of the trustees' directors and senior management, relevant skills and experience and procedures.
Five trustees withdrew during the licensing period and one company - Prince and Partners Trustee Company - had its application declined.
Perpetual, which oversees two KiwiSaver schemes and the billion-dollar Goodman Property Trust, is under investigation by the FMA over concerns about related-party lending on two other funds it oversees.
If it does not receive a licence the investments which it covers will have to appoint a new trustee.
The FMA did not name the other two applicants awaiting approval but it is believed they may be trustees for the retirement village sector.
An FMA statement said it would decide whether to grant licences to the three applicants by September 30 when temporary licences, issued on October 1, 2011, are due to expire.
The FMA said a common theme of those who withdrew their applications was the realisation that they would not be able to meet standards required.
The FMA spokesman said Prince and Partners Trustee Company was not granted a licence because it was not satisfied the applicant met the prescribed statutory standards.