Entrepreneur sees opportunities for NZ in fast-growing technology markets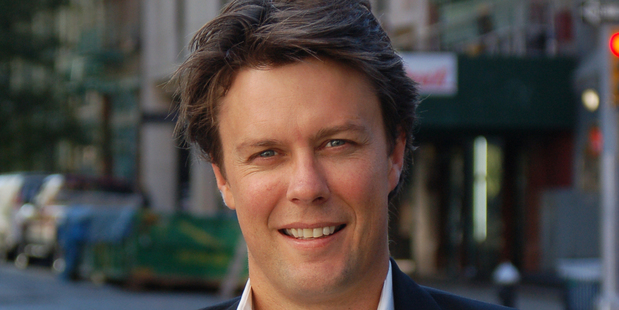 Jonty Kelt was a former Attorney-General's "right-hand man", an investment banker and the vice-president of an entertainment company in Shanghai - all before he turned 40.
Now the Manhattan-based entrepreneur is helping media giants like the New York Times make money online.
He's a long way - about 15,000km in fact - from Kirikau Valley where he grew up possum hunting, eeling and going to a school with just one teacher.
Although he's spent more than a decade in the United Kingdom, China and the United States, he thinks his rural roots left him in good stead.
"Rural New Zealanders, they're very capable people, they learn to make do with what they've got and get the job done. I live and breathe that every day," he said.
Kelt's not shy on talking up Kiwis who, he says, have an "inbred creativity" but admits the country isn't doing as well as it could when it comes to technology.
"New Zealand isn't rich in engineering talent let alone engineering leadership talent, so if they want to create a lot of value in the technology world they need to address that problem," he said.
"You also need an eco-system that will provide capital for ideas so they can flourish.
"You might have the best idea in the world, but if you don't have capital to develop it and take it to market you're never going to have a success.
"The odd one breaks out but that's mainly luck," Kelt said.
Like so many Kiwi entrepreneurs working overseas, the 40-year-old sees a huge opportunity for New Zealand to compete in fast-growing technology markets.
Kelt himself made the move into the industry after a three-year stint at Macquarie, where he worked with former Deputy Prime Minister and Attorney-General Jim McClay to set up a local branch of the bank.
"I just felt I could get to the forefront of the technology industry and be an expert and create value much more quickly than I could in an industry [like finance] which had been there for 100 years," he said.
His latest venture - called Group Commerce - provides a platform for media publishers to earn revenue from daily-deal style promotions online.
"The media industry is struggling with the transition to the digital world and what we do is part of the solution," he said.
Moving from a concept on his kitchen table just three years ago to a company with 140 employees across North America and the UK, Kelt said the multimillion-dollar business had grown revenue by 350 per cent in the past year.
With the e-commerce market valued at a trillion dollars, Kelt said there was a lot of room for Group Commerce to move. "E-commerce is growing and so the innovation around it is vast. We haven't even begun to scratch the surface, I don't think, in the way which people buy things online."
Jonty Kelt
* Age: 40
* Co-founder of Group Commerce, a multimillion-dollar tech firm helping media companies operate daily-deal style services.
* Grew up in the King Country, now living in Manhattan.
Kiwi Innovators
A week-long look at New Zealanders making their mark. Tomorrow the Business Herald talks to Christchurch's Mark Cox about his start-up Appsecute and his recent trip to San Francisco to get more investors on board.