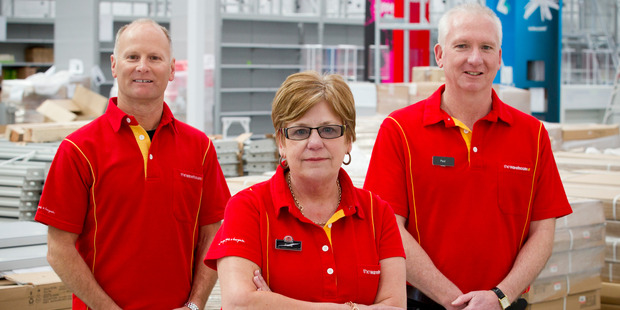 Around 300 new jobs are being created with the opening of three Warehouse stores in Auckland.
Red Sheds are to open at Silverdale and Mt Roskill next month and in Pah Rd in Royal Oak in January.
The 5300sq m Royal Oak store is creating about 90 new jobs, aiming to draw customers from Three Kings, Royal Oak, One Tree Hill and Onehunga and surrounding areas.
The Silverdale store is 6500sq m is creating 100 to 130 new jobs. Staff have been hired and some toured the store on Friday as stock was being brought onto the floor.
The 4200sq m Mt Roskill store aims to draw customers from Lynfield, Hillsborough, Sandringham and surrounding areas and about 70 new jobs are being created there.
About 300 permanent full-time jobs have been created at the 35-shop Silverdale centre built by The Warehouse where 150 construction workers were employed for about two years.
That Silverdale Warehouse is one of the first to be purpose-built under the chain's new-look format.
Fiona Shilton, property general manager, said the store in the $60 million 7.2ha retail centre north of Auckland was now being fitted out with low mid-store shelving systems which rise towards the walls, giving customers a better view of the entire store.
"New T5 fluorescent energy efficient lighting has been installed. The lighting system is centrally managed so when natural light gets to a certain point in the store, internal lights shut down," Shilton said.
She has worked on the new centre with project development managers Ian Hartshorne and Paul Hudson.
The Warehouse is revamping the interiors of all its stores, putting up clearer signage and new fittings and fixtures.
But in Auckland's CBD, the chain is being forced to consider relocating because its store up two escalators in Westfield's Downtown Centre is in the path of the proposed Central Rail Loop.
The Warehouse might also be forced to change the way it builds its new stores in future under the new more intensive Auckland Plan.
Ludo Campbell-Reid, environmental strategy and policy department manager at Auckland Council, wants big-box retailers like The Warehouse to consider developing residential accommodation above stores. At the Property Council's retail conference in July, he showed an artists' impression of apartments above a Warehouse, a concept which showed more of an integrated community with cafes, restaurants, a library, community centre and an active edge between the street and building.
The Warehouse
* Has 89 stores in the country.
* Opens at Silverdale October 18: 100-130 new jobs.
* Opening on Pah Rd, Royal Oak October 4: 90 new jobs.
* Opening at Mt Roskill in January: 70 new jobs.
* Biggest stores are at Te Rapa, Whangarei and Sylvia Park.
Source: The Warehouse.