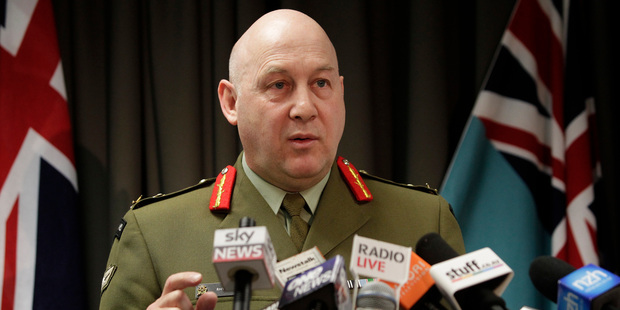 New Zealand Defence Force staff are in line for a $45 million pay rise but rents for those living in defence accommodation will also be increasing.
Chief of the Defence Force, Lieutenant General Rhys Jones, told staff that a bumper pay package for Regular Force, Reserve Force and Civilian staff was possible because of savings achieved over the past three years.
"This was always one of the promised rewards of finding efficiencies - reinvesting in our frontline, which is our people," Lt Gen Jones said.
It would not be an across-the-board pay rise, with every position to be linked with published market rates, Lt Gen Jones said.
"The vast majority of Defence Force employees will get an increase to their basic salary.
"The total remuneration of those already above the mid-point is being protected."
But there was also bad news with today's announcement.
Lt Gen Jones told staff that rents for those living in Defence Force housing and barracks would rise later this year.
With rents to be aligned with market rates, it would remove the advantage of those living in service housing over those living off base.
"Behind these changes has been the desire to be fair to all our personnel," Lt Gen Jones said.
There would also be an increase for both Regular Force and Reserve Force personnel in what was known as the 'Military Factor' - the premium paid to uniformed personnel in recognition of the hardships associated with military life.
Such hardships included being separated from family, and being on-call 24 hours a day.
This compensated for the removal of some current leave and allowance entitlements that would end, Lt Gen Jones said.
Staff were also told today that up to another $40 million had been allocated in a one-off buy-back or buy-out of specific entitlements and conditions of service that were being phased out.
Defence Minister Jonathan Coleman described the pay rise as a significant new investment in pay for the uniformed and civilian employees of the NZDF.
"The New Zealand government really values the contribution defence personnel are making and is keen to ensure NZDF employees remain engaged in their work.
"Although not the only factor in what people value in a job there is no doubt remuneration is important."
Coleman said the NZDF had saved $143 million this year.
"Money it saves is reinvested back into the Defence Force, and a good portion of it is being reinvested into pay," he said.
The Defence Force employees had not had a pay rates increase since 2008.
Labour's Defence spokesman Iain Lees-Galloway said the increase was little more than the Government giving with one hand and taking away with the other.
"The long overdue announcement that the four-year pay freeze is coming to an end will be welcome news for Defence Force personnel but the celebrations will be short-lived once they realise what they are being forced to give up to compensate for it,'' he said.
"Not only do the increased pay rates come at the cost of leave and allowance entitlements but families living on base are set to see their living costs rise as rents are increased to market rates.
"Scrambling to give remaining staff some good news in the wake of the morale crisis it created by civilianising uniformed personnel and cutting allowances is callous in the extreme.''