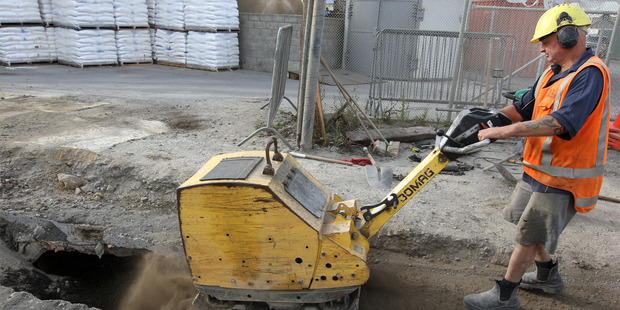 A majority of employers are feeling optimistic about hiring new staff as they head into the final quarter of the year, according to the latest recruitment company survey.
Led by a surge in mining and construction sector job prospects, a net 18 per cent of New Zealand employers were feeling upbeat about hiring in Manpower's Employment Outlook Survey.
Of 650 employers canvassed, 27 per cent expected to increase hiring compared to 8 per cent who planned to decrease hiring.
The recent announcement of the Christchurch rebuild blueprint was driving some of this optimism, said Lincoln Crawley, managing director of ManpowerGroup Australia and New Zealand.
"The announcement of the rebuild blueprint is leading to a surge in construction activity, as employers in this sector finalise their plans and begin work," he said.
"We expect to see greater demand for roles such as project managers, construction and site managers, and quantity surveyors."
Confidence amongst employers in the construction sector was a net 39 per cent, which was 9 per cent up on from the last quarter and the strongest fourth quarter outlook since the survey began in 2004, Crawley said.
By region, Christchurch employers had the strongest fourth quarter hiring intentions with an Net Employment Outlook (NEO) of 24 per cent.
This compared to Wellington at net 16 per cent and Auckland at net 18 per cent.
"An estimated 36,000 additional workers will be required at the height of the Christchurch rebuild, so job seekers looking for roles in construction, engineering or trades should consider relocating and retraining where necessary to ensure they have the required skills to fill these roles," Crawley said.
Manpower's survey found job prospects improved or remained relatively stable in most sectors of the NZ economy.
Employers in both the transportation and utilities sector and manufacturing sector anticipated an active hiring pace in the fourth quarter with an NEO of 27 per cent and 17 per cent, respectively.
Hiring expectations were not quite as strong in the finance, insurance and real estate sector, with an NEO of 8 per cent.
Manpower's quarterly NEO was derived by taking the percentage of employers anticipating an increase in hiring activity and subtracting the percentage of employers expecting to see a decrease in employment.