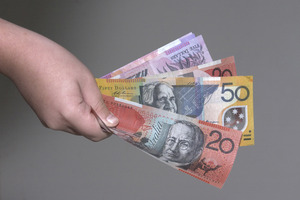 The Reserve Bank of Australia has left the cash rate at 3.5 per cent and given no reason for anyone to expect it to change in the coming few months.
The Australian dollar blipped up from US102.35c to US102.70c within 15 minutes of the bank's decision yesterday afternoon, suggesting some market players were expecting a pointer to a cut.
But there was no such pointer - not an explicit one anyway.
The Reserve Bank acknowledged the world economy had slowed, after a pick-up earlier in 2012, and might slow further.
"Current assessments are that global GDP will grow at no more than average pace in 2012, with risks to the outlook still on the downside," said a statement issued by governor Glenn Stevens after the monthly monetary policy meeting.
But that was the outlook for the rest of the world. In Australia, economic growth was running "close to trend", the bank said.
And there are reasons for it to draw back from cutting interest rates, including the delayed impact of earlier cuts, starting last November, that took the cash rate down from 4.75 per cent.
"The impact of those changes is still working its way through the economy, but dwelling prices have firmed a little and business credit has picked up this year," the bank said. And, although the outlook is for inflation to stay in line with its 2 to 3 per cent target over the coming one or two years, the bank repeated a familiar warning.
That was that the benign outlook for inflation rests on the expectation that cost pressures - and by that, by and large, the bank means wage rises - would stay under control as the downward pressure on prices from the earlier rise in the exchange rate wanes.
So, while the world economy poses some downside risk for growth and, by implication, inflation, the local economy carries some risk of upside pressure on inflation.
With risks in either direction, the Reserve Bank judged its monetary policy setting to be "appropriate", and gave no hint that its assessment was likely to change in the near future.
- AAP