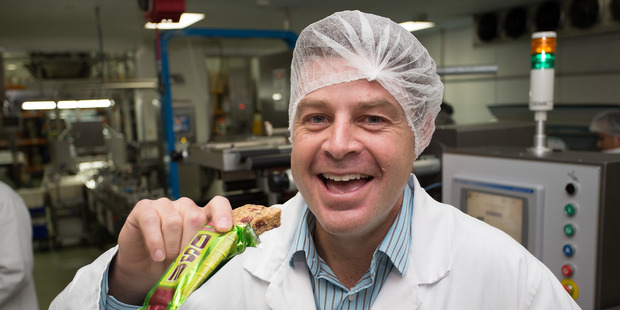 Christchurch's Cookie Time says the patent it has secured creates a whole new class of food and beverage - one which it now has the sole rights to sell products within.
The company, best known for its chocolate chip biscuits, has this month been granted a New Zealand patent on "nutritionally balanced food or beverage" products, which relates to its One Square Meal brand, a meal replacement bar that first hit the market in 2005.
Cookie Time says the bar provides exactly one-third of an adult's recommended daily intake (RDI) of energy, protein, carbohydrates, fat and dietary fibre.
The RDI is set by Food Standards Australia New Zealand, an agency overseen by the governments on both sides of the Tasman.
"It's a revolutionary approach to start with recommended daily intakes and then design a specific food [One Square Meal] to deliver to these," said Cookie Time general manager Lincoln Booth.
"We now have ownership of a novel, yet universal food and beverage proposition that no one else can touch."
One Square Meal beverages and cereal are also being developed.
Cookie Time said while patents based on manufacturing processes were common, those that created a new class of food and beverage were rare.
Although Booth would not disclose the meal replacement bar's revenue, he said the product had seen double-digit sales growth every year.
Cookie Time said it had also submitted a raft of similar patent applications overseas, including in Britain, the US and Australia.
The bar has been manufactured under licence by Sanitarium across the Tasman since January and Booth said the company was working to secure similar licensing agreements in other countries.
Jason Rogers, a partner with James & Wells Intellectual Property who worked on securing the patent, said it had been a challenging process as it involved "a shift in mindset".
He said many people, including patent examiners, were aware of the term "nutritionally balanced".
But it was misunderstood as it was often used when marketing products that were not actually nutritionally balanced, Rogers said.