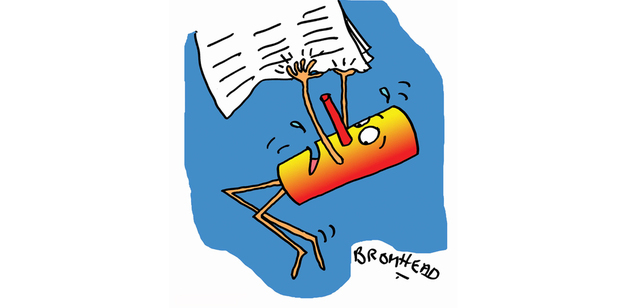 "I see you're still producing a few scribbles for local newspapers," a dinner guest commented.
"You mean cartoons?" I replied, guardedly.
"No ... no, those weekly bits and pieces," he murmured, waving a hand vaguely in the air.
"You mean, my column in The Business?" I replied stiffly.
"Yes, that's it. My wife likes your jottings," he continued, reaching to refill his glass with my best Margaux.
"She reckons it's the first thing she reads in the newspaper."
"Thank you," I replied graciously, trying to overcome my feelings about my literary efforts being perceived only as scribbles or jottings.
"That's the column at the back of the paper, buried right at the bottom of the last page, isn't it?" said another guest, waspishly.
"Someone's got to be arse-end Charlie," I replied bravely.
"Hanging in by your fingernails, you mean, before the next round of redundancies," she said, reflecting the mindset of a cynical ex-TV producer.
"So, how come you don't write anything serious in this business section supplement?" asked a third guest, a beady-eyed corporate director, not noted for his well-developed sense of humour.
"Finance and bank profits, that sort of thing. There's plenty going on in the banking world that needs intelligent analysis," he suggested.
"I don't really know very much about money matters," I replied, modestly, settling for a glass of supermarket pinot gris because my expensive claret had all disappeared down the throats of my inquisitors.
"I hardly visit banks any more, because the caregiver looks after all that sort of thing."
Sensing a mystified silence creeping over my guests, I decided I should make a supreme effort to justify my vocation as a knowledgeable business journalist.
"Err ..." I announced, raising my glass, "may I propose a toast to the late Lord Irskine of Rerrick."
"Lord Irskine?" my guests chorused.
"Yes ..." I continued. "He left his testicles to the Bank of Scotland, an institute noted for its cheeseparing ways and vast profits at the time of his demise.
"As the bank had declared the lord bankrupt, he wrote in his will that, like most financial institutions, it appeared to have no balls and therefore might find his pair extremely useful."
"I don't think a sober business supplement will stoop to publishing that sort of tasteless trivia," my corporate friend retorted, with a disapproving shake of his head.
"Well ..," I replied, "we'll just have to wait until Friday to find out."