Global giant vs kids' innate laziness? My money's on the kids every time.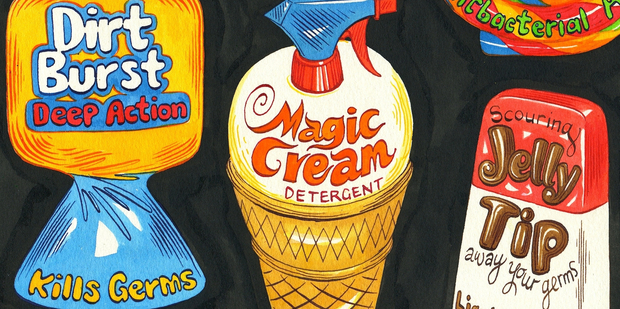 There's lots of talk lately about journalists being "churnalists" - poorly paid, barely experienced hacks rewriting 10 press releases a day into news stories, as experienced reporters take to the streets with their begging bowls and dog-eared clippings scrapbooks.
Well, in an attempt to stave off the soup kitchen, excuse me if I do refer to a particularly aspirational press release from the past week.
Not that Reckitt Benckiser, the world's largest maker of cleaning products including Dettol, Harpic and Easy Off Bam!, probably gives a toss whether its releases make it into newsprint. The company, with global revenue of about $20 billion, is seeing huge growth in emerging markets like China and India for its hygiene products. The only blip in the juggernaut's first-quarter revenue report was that a "poor flu season" meant stagnant sales for products like Nurofen and Strepsils (clearly, New Zealand's "good" flu season wasn't enough to turn the tide).
The release from the company that caught my eye was headed, intriguingly, "Kiwi parents not getting support when it comes to cleaning".
Surely not even a global behemoth would have the temerity to push for household cleaning subsidies in these tight times? - Bill English's head would implode at the mere suggestion.
But no, the release detailed the findings of a survey of almost 2000 Kiwis, finding that 68 per cent of parents clean their homes with no help from the kids.
The only thing shocking about this statistic is that 32 per cent of households have kids who will brandish a broom or washcloth once in a while.
Unsurprisingly, almost 60 per cent would like to sign up their kids to help on occasion - even though 26 per cent of respondents said the number one obstacle preventing them from getting to the cleaning was - you guessed it - "the kids".
One solution for a clever company like Reckitt Benckiser would be to grow the consumers of the future by somehow engaging kids in the task of cleaning. It's not easy, as I know. Recently, I was moved to offer pocket money to the 4- and 6-year-olds to get them to at least put their dirty clothes in the wash bin, only to be met with piteous howls on payment night when it became apparent that those arduous tasks didn't yield enough revenue to immediately go out and buy the latest Polly Pocket or Trash Pack or Ben 10 alien.
But Reckitt Benckiser reckons it could be on to a winner with a new online game it is launching called Home Heroes, which turns the chores roster into a competition between family members, complete with leader board and virtual reward scheme. "It turns a weekly chore into a cool game that can involve and entertain mum, dad and the kids," says brand manager Narissa Harvey, stretching the definition of "cool" beyond breaking point.
If it works to help all members of the family, including reluctant husbands, "get involved and enjoy the satisfaction that clean and tidy home can bring", I would be the first to sing its praises, multibillion-dollar multinational conglomerate or not.
In the meantime, I'll put my faith in my personal consumer products wishlist - the one I think is more likely to bear fruit one day: the shower spray that needs no elbow grease; furniture polish that repels dust for eternity; a harmless but effective daily pill to alleviate boredom and small neuroses. Come up with any of these, and we're talking.
* Illustration by Anna Crichton: illustrator@annacrichton.com