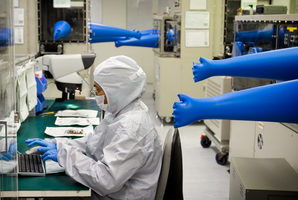 Shares in components maker Rakon slumped yesterday after a trading update revealed tight margins in the firm's smartphone and tablet computer market and slower than expected growth in telecommunications infrastructure spending.
The stock, which rallied sharply at the beginning of the week following the announcement of a new partnership with Chinese telco giant Huawei, fell 5c to close at 42c last night.
Rakon, which makes crystal oscillators used in a range of industries, said full-year earnings before interest, tax, depreciation and amortisation (ebitda) were expected to be stronger than last year, in the range of $14 million to $16 million.
"If we achieve the midpoint of that range it will be an 18 per cent increase in profit over last year," said managing director Brent Robinson.
Mark Lister, head of private wealth research at Craigs Investment Partners, said the market would take a "believe it when we see it" approach to Rakon until it began delivering improved profits.
The company posted a full-year net loss of $400,000 in May, down from an $8.5 million net profit in the previous year.
"History has told us that this is a company that often gets it wrong in terms of their guidance to the market," Lister said.
Robinson said the consumer market, fuelled by growth in smartphones and tablet computers, continued to grow strongly and this was reflected in Rakon's sales in that area.
But a competitive marketplace meant that margins remained tight, he added.
Robinson said Rakon had seen growth in the telecommunications market at the end of the last financial year, but it had not continued at the expected pace because of the sluggish global economic environment.
Despite the challenges, he said the company remained optimistic about the future.
Rakon was continuing to increase market share in its existing customer base as a result of a broadening product range.