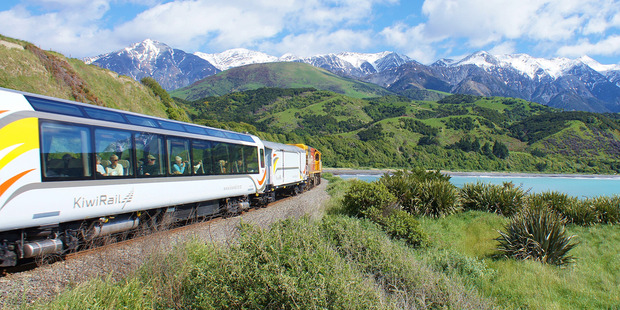 The Labour Party has asked tough questions about the state of KiwiRail after it won a temporary injunction preventing the publication of sensitive material from a leaked business plan.
The state-owned company yesterday won a temporary High Court order after it was leaked to Radio New Zealand.
But parts of it were read in Parliament yesterday by Labour MP Phil Twyford under the absolute privilege MPs have, without the source document being identified.
Labour later distributed the draft document, titled Infrastructure and Engineering Business Plan 2013-2015, to other journalists.
Some parts of it have already been announced by KiwiRail, such as proposed job cuts of between 170 and 220 full-time equivalents.
Mr Twyford asked several questions of the Minister of State Owned Enterprises, pointing to aspects of the report:
* Has the board of KiwiRail advised him that from 2014 onwards the rail asset will decline and disruption will grow, that when spending gets back to current levels it will take many years to pull back from the decline, that virtually all rail routes will run down in some way, and that by 2015 KiwiRail will be doing 50 per cent less track renewal work?
* Has the board of KiwiRail advised him that the amount to be spent on timber bridges will be cut substantially, projects on the main trunk line will be cancelled or deferred, the overall condition of railway sleepers will decline, and KiwiRail will have to accept a higher level of unplanned disruptions such as such as slips and erosion?
* Has the board of KiwiRail advised him that the coal routes between Lyttelton and the West Coast and the route known as the golden triangle of forestry, which runs between Hamilton, Murupara and Kawerau, have been coded by KiwiRail as TM4, which means their track metrics are unacceptable and pose a safety risk and are prejudicial to the customer base?
After the questions, Labour MP Trevor Mallard sought the leave of the House to table the Infrastructure and Engineering Business Plan 2013-15, but it was opposed by acting SOE Minister Gerry Brownlee.
Responding to Mr Twyford, Mr Brownlee said he was not sure what document he had but he suspected it was an internal document in which KiwiRail had scoped its risks to its network.
Over the next few years $750 million would be invested in upgrading the network, including an $80 million a year maintenance plan.
He said that derailment in the last couple of years had fallen dramatically because track maintenance had been a priority for KiwiRail since it took over the distressed business which was bought by the Labour Government at a record price of $690 million.