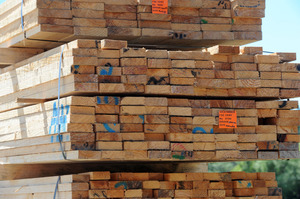 Timber mouldings maker Tenon believes it is past the bottom of a five-year US housing market downturn and is in better shape for a recovery than when the slump began, despite posting a loss of US$11 million ($13.4 million) for the year to June 30, up from a US$1 million loss the previous year.
The result came from revenue of US$334 million, up 2.5 per cent on the previous year, being outweighed by a 5.3 per cent rise in cost of sales, and included US$5 million of one-off restructuring costs in its US, Canadian, and New Zealand operations.
The strong New Zealand dollar was a further headwind, wiping out most of the gains from about US$7 million of cost savings achieved during the year.
The company's commentary on the result is upbeat, while acknowledging "although relative performance may have been good, absolute performance in recent times, particularly this past year, has been quite underwhelming".
"We believe the financial year just completed should prove to have been the 'dead bottom' of the cycle from a Tenon earnings perspective," said chairman Luke Moriarty and chief operating officer Tony Johnston in an annual commentary to shareholders, posted with the earnings announcement on the NZX.
"Our US business is far better positioned today, both operationally and strategically, than it was when we entered the cycle downturn five or so years ago," they say.
Recent fine-tuning in its key Taupo manufacturing hub has helped deal with the threat of Kiwi dollar strength and volatility, they argued.
The company retains total group equity of US$132 million from a starting point of US$533 million. It wants to make strategic acquisitions and plans to cut debt aggressively from US$39 million this year to the "mid-30 million level by June 2013" to help fund such acquisitions.
This meant achieving "the lion's share" of savings achieved from the restructuring programme immediately, they said, while hopefully benefiting from an upturn in the US housing market.
In the meantime, Tenon has developed a superior outdoor decking product addressing a US$4 billion market, far larger than its current moulding market exposure.
Also in the company's medium-term plans is a staged entry into the Chinese market, and a deepening of its small, recently executed presence in the Australian market, as part of a broader strategy to end its sole dependence on the US housing market.
"Like our industry colleagues, we will not be giving earnings guidance at this stage," Moriarty said, beyond saying no recovery was likely to show up in earnings "until the second half of fiscal 2013".
The next annual meeting will be in Wellington in December, with details to come. Shares closed up 6c yesterday at 70c.