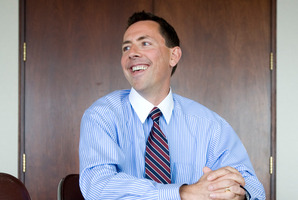 "Strine" - the Australian accent - has been the leadership lingo at Fletcher Building's world headquarters in Penrose since the company was floated on the NZX more than a decade ago.
But come Monday October 1, a northern English inflection will ring around the upper executive levels of 810 Great South Rd, as Mark Adamson becomes chief executive.
From October, Adamson will head New Zealand's largest building materials and contracting business, with a market capitalisation of $4.3 billion.
Adamson grew up in Newcastle, the son of a policeman, and will soon move into the role previously occupied by Ralph Waters of Sydney and Jonathan Ling of Melbourne.
For the first time, a British national will run the company, which has never been headed by a Kiwi, although the original now-defunct Fletcher Challenge regularly had New Zealanders at the top.
Quite why a New Zealander has never been appointed has never been disclosed by the board which says it picks the best people for the job.
Some people close to Fletcher Building are not only expecting a big change in the sound of the leader's voice.
They see Adamson as potentially ushering in a new management style, more plain speaking and possibly even being given a mandate for a major shake-up of the business which is under threat from cheap imports, low residential building levels here and in Australia, a flat-lining share price and a Christchurch rebuild taking far too long to start.
Analysts have welcomed Adamson, seeing him as a steady hand and someone who has already proved his worth turning around Formica worldwide and The Laminex Group businesses in Australia and New Zealand.
In 2011, total annual revenues of the division he heads were $2.1 billion, with 4500 staff employed across 20 manufacturing sites.
He appears to have done the seemingly impossible: rescued the basketcase Formica, not long out of Chapter 11 when Ling bought it, and converted it into Fletcher's best performer.
The Laminates and Panels division made $63 million EBIT before unusuals in the year to June, 2011, ahead of concrete's $60 million, Crane's $53 million, building products' $43 million, construction's $25 million, steel's $24 million and distribution's $15 million.
Adamson has been reporting directly to Ling and visited New Zealand from time to time, speaking to the Herald in 2010 and vowing that Formica would make better returns, enthusiastic about Asia's double-digit growth with operations in Malaysia, Indonesia, Vietnam and future expansions into Bangkok and Indonesia
Two years ago, Adamson was rubbing shoulders with the mainly New Zealand Fletcher bosses here, joining a chief executive team-building summit held at Villa Maria. Present were infrastructure and construction's Mark Binns, building products' Chris Ellis, distribution's John Beveridge, laminates and panels' David Worley and steel's Paul Zuckerman.
In appointing Adamson, Waters said the board was unanimous in their decision and the directors were impressed with his achievements and vision. He did an outstanding job at Formica, undertaking difficult restructuring early in his tenure as global president of that business, and more recently growing its earnings in developing markets, particularly in Asia, Waters said.
His leadership has enabled Formica to deliver continued operational performance and earnings improvements year after year despite very challenging conditions in many of its markets, Waters said.
Adamson will relocate to Auckland with his family from the United States. As he settles in, the Geordie might begin to show his true mettle.
Mark Adamson
* Appointed chief executive of Fletcher Building
* Age: 46 when appointed on June 18
* Now: Chief executive, Fletcher's Laminates and Panels division
* Based: Cincinnati, Ohio, United States
* BA (hons), finance (hons), ex-Deloitte chartered accountant
* Joined Formica in 2000
* Starts in new role from October 1
* Replaces Jonathan Ling, CEO for six years