KiwiRail and Veolia face new cash penalties if they don't get the trains through on time - but will it be enough to escape an ugly legacy of delays, waste and conflict on the railway lines? Cherie Howie and Jonathan Milne investigate.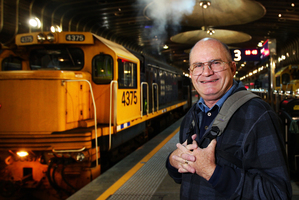 Rob Webb has been working on the railroad, all the live-long day. Now he's retired and riding the rails.
Some would call him a trainspotter. Webb calls himself an enthusiast.
He relaxes back into his window seat on the blue diesel multiple unit (DMU) as the 10.54am southern line service rolls out of central Auckland, bound for Pukekohe.
The retired railways engineer, the great-grandson of a Kumeu track ganger and the grandson of a King Country signalman, has loved trains all his life.
"I was a little boy who never got past it," he laughs. "I like steel wheels and steel rails. Mostly I like big things that move - big ships, planes, even earthmoving machinery, but ultimately trains."
The Greenhithe 66-year-old insists his passion is different from the trainspotters who meticulously note down locomotive serial numbers or salivate over the livery of their favourite trains.
"When I'm on the train my thoughts go to the more technical things, like how it's really nice riding on a nice piece of rail."
"We haven't hit any real rough track yet. You'll know when you do. You can hear the rails roaring."
Webb understands why many people love train travel, riding the rails on journeys that would be easier and cheaper to make using almost any other form of transport. "Certainly people reminisce about it all the time. Perhaps it's because it's removed from the hustle and bustle."
Vehicles whizz by on the Southern Motorway as the train trundles south, but Webb says you'd never catch him criticising the "rubber wheels" spinning beneath the truck and trailer units thundering past.
"There's a place for both. When you want to move one container you put it on the road. When you want to move 400 containers a day you go for rail."
Trains are big and loud and dirty. Strange, then, that the smelly diesel and electric locomotives have become the darlings of the environmental movement, which sees them as more efficient than the thousands of cars and trucks that clog our motorways.
Efficiency has not always been the first word used to describe rail. In 1984, the incoming Minister of Railways, Richard Prebble, was dismayed to discover the extent of waste within the New Zealand Railways Corporation.
Prebble recalls one warehouse in Northland, full of all the supplies needed to run a railway line, and a warehouseman supervising the inventory and dutifully replacing any equipment that passed its used-by date.
"The only problem was, Railways had closed that line a decade before - and he was still there." Prebble laughs at the recollection.
Then, out Helensville way, a consultant was making his way up the line counting NZRC assets when he came across a rail gang brewing a cuppa by the side of the track. They invited him to join them and he asked what their job was. They told him they were in charge of signals maintenance, even though the signals on that line had long been decommissioned.
"We haven't been ordered to retreat," the men explained.
Prebble earned the enduring wrath of many New Zealanders with his state sector reforms. When he took charge, railways employed 24,000 people - he slashed 80 per cent of those jobs. But he does boast that the 5000 remaining staff moved twice the freight at half the price. That may be the closest New Zealand railways have ever come to being cost-effective, he suggests.
Ever since 1873, when Sir Julius Vogel founded New Zealand's national network of Cape gauge (1067mm-wide) railways, there have been questions about whether it's a good and cost-effective way of moving people and freight. Vogel's first infrastructure network was funded by overseas loans of £10 million, $1.26 billion in today's money.
But a billion dollars doesn't buy much rail these days.
The Dart project to upgrade Auckland's rail was $600m alone. The electrification of the city's commuter rail is costing another $500m, and the 57 new Spanish electric units and their new depot at Manukau will cost up to $590m. On top of all that, who knows how much it will cost to build a third line from Papakura, via Meadowbank, to the Ports of Auckland? Already, KiwiRail has begun widening bridges, but there is millions of dollars more work to be done.
And still, there is some of that same waste and leakage and double-handling that Prebble tried to stamp out.
KiwiRail has 18,000ha of rail corridor land, most occupied by company infrastructure. But 353km of railways have been mothballed, most recently the Napier-Gisborne line. Some of the land that KiwiRail doesn't need is leased to tourist rail operators or farmers, garnering the company $27.5 million income last year.
Some is not used but the company and the Government are unwilling to sell it lest they cop public backlash.
Theft, too, is a problem. KiwiRail regularly calls in police when rail irons, sleepers, and even the stones beneath the tracks are stolen.
KiwiRail northern regional manager Stephen Collett tells the story of one such theft - a farmer who decided the railway stones would be ideal to repair his driveway.
"He just rocked up with his tractor and was taking away bucketloads of ballast," Collett says. "When he was accosted he was incredibly apologetic. We are such a soft target that anybody can gain access to either side of our rail corridor and cause a lot of damage."
Now that second-hand steel earns better prices from scrap merchants, KiwiRail has begun collecting some of the rail irons left on sidings. It recovered $359,000 of steel from beside the North Auckland line last year. Take off the costs of collecting it, and KiwiRail still earned a tidy $62,000.
The people who work on the railways, and the people in business suits who balance the books, are anxious to assure the public they are getting value for money, despite reeling drunkenly from government bailout package to bickering train drivers, mothballing to theft, World Cup stoppage to rush-hour power outage. And all against a constant hum in the background, the sound of Auckland commuters complaining of long waits on short platforms.
So here's the short history of how we ended up waiting on those platforms. Labour's Prebble laid off most of NZ Rail's staff, sold nine-tenths of its stockpiled rail irons, and converted it into a state-owned enterprise in 1990. National's Ruth Richardson sold it to Fay Richwhite and Wisconsin Central Transportation Corporation in 1993.
In 2003, Australian-based transport company Toll Holdings bought 85 percent of Tranz Rail shares, triggering the Helen Clark Labour Government to buy back the underlying track and infrastructure. The Government agreed to spend $200m doing up the tracks, which it ultimately vested in a new Crown-owned company called KiwiRail.
Finally in July 2008, the Government bought back Toll's rail and ferry business for $665m. Some analysts argued it was so burdened down with liabilities such as deferred maintenance that it should have been handed over for free.
In 2010, John Key's Government agreed a 10-year "turnaround plan" to get the company back in the black: the Government would contribute $750m, and KiwiRail would find $3.85 billion from cost-cutting and retained dividends to establish the company as a viable, self-sustaining freight-based business.
Ha. A likely prospect.
This week, state-owned enterprises minister Tony Ryall conceded to Parliament that there was "little likelihood that KiwiRail will find the $3.85 billion projected in the original turnaround plan".
By this time, as well as being responsible for the railway lines and corridors, KiwiRail was running freight and passenger trains up and down the country, commuter rail in Wellington, and was deeply involved in Auckland, too. In a bid to turn the City of Sails into the City of Rails, it was given $600m to refurbish and extend the underlying commuter rail infrastructure, which it owns on behalf of the Crown.
The Auckland Regional Transport Authority, which owned most of the commuter trains, awarded French company Veolia a 10-year contract to run those trains and, quite literally, clip the ticket along the way.
Veolia is one of the world's biggest rail companies and, inevitably, has run into its share of controversies. In 2003 its southeast England subsidiary lost its contract to run services into London's Victoria and London Bridge stations. Britain's Strategic Rail Authority cited poor financial management and "a serious loss of confidence ... in the ability of the company to run the business in its widest sense". Then, in 2009, its Melbourne subsidiary lost its contract after being forced to cancel one-third of its services in a week-long heatwave that distorted the rails.
Here, the name Veolia may be forever burned into the national memory for its handling of one grim evening: September 9 last year - Rugby World Cup opening night. Nearly 1000 people were late for the opening ceremony and some opted to give up trying to get there after Auckland trains ground to a halt, trapping people for about two hours.
Prebble took one look at the passenger rail plans that day, and opted to drive to Eden Park. "Of course the trains didn't have capacity to move all the passengers they were promising," Prebble says. "They knew that, and I knew that. So I drove my car. I've never had an easier drive."
Dapper Aucklander Nick Orange worked 15 years with London Underground, climbing from collecting tickets at Holborn Station to group manager in charge of Victoria Station, before he decided it was time to return home. After a stint at KiwiRail, he is now Veolia Transport Auckland's customer services manager. Like Rob Webb and Richard Prebble, he knows rail. He sums up RWC opening night in four under-stated words: "It was a challenge."
The Rugby World Cup was not the first challenge faced by the Veolia-KiwiRail partnership. Kiwi-Rail leases a number of locomotives to Auckland, plus about 55 locomotive drivers.
A few of the KiwiRail loco drivers can also drive the DMUs. They work with the 70 Veolia DMU drivers, share the same lunch rooms and are all members of the same union, but relations are bad.
Veolia drivers complained they had been subjected to death threats and verbal abuse. At least once, a KiwiRail driver "high-beamed" an oncoming Veolia, dangerously dazzling his sight. Veolia drivers complained that their train cab seats were urinated on, and faeces smeared on the brake levers before they started their shifts.
Rail and Maritime Transport Union general secretary Wayne Butson admits it was "a bit nasty".
KiwiRail mechanical maintenance manager Paul Ashton confirms there were "issues of intimidation and verbal abuse", including allegations of cabs being deliberately soiled, a driver's parked car being scratched, and high-beaming. "There was silliness going on between drivers in both companies."
After a joint warning from KiwiRail, Veolia and the union in 2009, the problems subsided but Ashton admits relations between the drivers are still not warm.
There is ill-feeling about training and shifts and at times, when there's been a major incident - a train derailment or a pedestrian death on the track, which happens about five times a year - an appropriately trained driver cannot be found to move the train and get the network running again.
These problems, too, should be resolved with the arrival of the 57 new electric units. When they arrive, all the engineers will be trained to drive them.
Nick Orange says: "The problem will go away." Veolia accepted responsibility for the fiasco that was RWC opening night, and the late-running of almost one in four trains in some months this year; KiwiRail accepts that it was responsible for a major power outage at its Wellington control room that took down the Auckland commuter network at peak hour in April. KiwiRail, too, has been hit with stopwork meetings this week as it lays off staff to cut costs.
These are just more problems that the companies need to "go away". And now, their problems are Auckland Transport's problems - because, earlier this year, with no fanfare, no public discussion, no opportunity for competing tenders, the council's transport body extended Veolia's contract by more than two years. Veolia is now contracted through to June 2016 to get Aucklanders around the city, to and from work, and to big events - nearly 11 million trips a year.
Orange says the contract extension is good for Auckland commuters, providing some stability at a time of uncertainty. Auckland Transport hopes to introduce integrated ticketing across trains, ferries and perhaps buses by the end of this year, at the same time that it readies the network for electrification. "You wouldn't want to go through a whole new tendering process right in the middle of new trains being introduced," says the Veolia boss.
The other good news? Since the contract extension came into force last month Veolia and KiwiRail are being measured against strict performance indicators, such as punctuality and cancellation rates. And if they don't deliver, they don't get paid. Or at least, they don't get paid as much.

Like most of us, the rail companies want to be liked. Perhaps that's why they do things like repainting historic locomotive DC4444 with its numbers big on the side, at the request of the trainspotters. Or why Veolia has just released an animated children's song on YouTube to mark Rail Safety Week.
And perhaps that's why KiwiRail PR woman Jenni Austin gets somewhat defensive when teasingly asked why any private investor would even want to buy KiwiRail off the Government, if John Key should ever decide to sell it.
KiwiRail is a good company, Austin says. Rail freight is a lucrative business. Go and talk to some of our freight customers, she says. Go and talk to Mainfreight, she suggests. They're very supportive of rail. So we do.
Richard Prebble has been a director of Mainfreight since 1996. "The Mainfreight company is a big supporter of rail," he agrees. "We've just spent millions of dollars building depots on rail land. If the Government doesn't fix up rail we'll be very upset."
That's the official line. He pauses. "Now, I'm not speaking for Mainfreight. They'll be very upset to hear me say this: rail as a technology, is probably obsolete. And in Auckland, we're wasting a huge amount of effort. Even if these plans all come off, rail will account for only 5 per cent of passenger movements.
"Most of the things they say to try to promote rail are not true. The argument that it's green is dubious. A modern diesel truck is an engineering marvel."
So should Veolia be sent packing, as some suggest, and Auckland Transport take complete control of the city's commuter rail? Or should Auckland Transport further tighten the contracts, as former minister Rodney Hide suggests, and demand greater accountability from Veolia and KiwiRail's management?
Thirty years in railways and Webb, for one, says he still doesn't know the answer.
But he remains passionate, if pragmatic, about rail's place in the country's transport network. There's a place for the Auckland city rail loop and a main trunk rail line between Auckland and Christchurch, extending out to the port city of Tauranga, Webb says.
But the days of passenger trains servicing outpost towns and cities are over.
"The country's different from what it was 50 years ago. It's a different world."
- Herald on Sunday