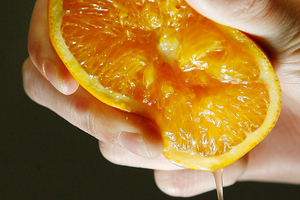 Simply Squeezed juice company will double the amount of New Zealand oranges it squeezes during the next five years thanks to a $4 million investment strategy.
Chief executive Adrian Barr said the strategy would see more oranges under contract in New Zealand and expand the processing facilities at the Bay View plant, north of Napier.
"It demonstrates a long-term commitment to growing the business, the economy, and supporting our growers and wider industry," Barr said.
"Growing New Zealand oranges reduces our reliance on imports and, in our mind, New Zealand oranges make better tasting juice, even when blended with imported ingredients."
Simply Squeezed had to blend New Zealand and imported juice and concentrates because it could not get enough New Zealand juicing oranges.
"We take every New Zealand juicing orange we can and we process about 7000 tonnes of fruit made up of both citrus and apples a year," he said.
"By 2016 Simply Squeezed expects to grow fruit processing to more than 10,000 tonnes as the size of the New Zealand orange crop increases with new plantings that have started over the past several years.
"We have a strong relationship with our growers, who are also investing in their citrus industry by planting more trees, and it's these new plantings which give us the confidence to continue to invest in processing buildings and equipment."
He said the biennial nature of orange trees, which crop heavier every second year, was challenging.
"We take in oranges throughout the year but the main season is from December to June.
"Fruit surplus to immediate demand is still squeezed and the juice frozen for production during the year, so the additional space will enable us to manage the greater New Zealand orange crop."
Simply Squeezed has been operating since 1991 and was bought by Frucor in 2009.
The company employs 100 staff, with 80 based in Hawkes Bay. It has 43 franchises across New Zealand and 22 grower suppliers. Hawke's Bay Today
For more articles from this region, go to Hawkes Bay Today