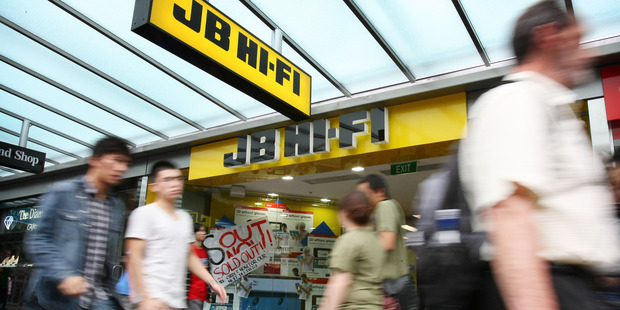 Discount electronic goods retailer JB Hi-Fi's New Zealand stores reported the first operating profit in five years as local sales climbed 18 per cent, more than for the entire Australian group.
The Victoria-based company's 13 New Zealand stores reported pretax earnings of $3.6 million in the 12 months ended June 30, compared to a loss of $1.6 million a year earlier, while sales climbed to $222.2 million from $188.7 million. The group's net profit fell 4.6 per cent to A$104.6 million, or $1.059 per share, while sales rose 5.7 per cent to A$3.13 billion.
JB Hi-Fi grew the gross margin at its New Zealand stores 38 basis points to 17.7 per cent through "increased volumes and improved terms with suppliers," the company said.
The decline in group profit was in line with the company's guidance in April as margins were squeezed by intense competition arising from the looming sale of Dick Smith Electronics and Queensland-based WOW Sight and Sound's receivership.
New Zealand retailers have been heavily discounting consumer electronics as households clamp down on their discretionary spending and repay debt instead. The price of audio-visual and computing equipment and telecommunication devices has plunged in the past year, leading the cooling of annual inflation to a 13-year low 1 per cent.
JB Hi-Fi said it expects to lift group sales 5.5 per cent to some A$3.3 billion in the 2013 financial year, with 16 new stores to be opened. The retailer will add another local store to its stable at an undisclosed location, it said.
The board declared a final dividend of 16 Australian cents per share, taking the annual return to a fully-franked 65 cents.
The shares rose 0.7 per cent to A$9.22 on the ASX on Friday, and have shed 18 per cent this year. The stock is rated an average 'hold' based on 15 analysts' recommendations compiled by Reuters, with a median target price of A$9.55.