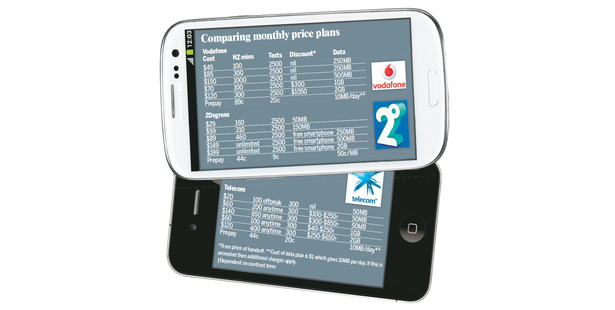 The cost of some mobile services is still too high, says a consumer watchdog, despite competition driving down prices.
It was revealed this week that the industry's newest entrant, 2degrees, has amassed a million customers. Vodafone is still the biggest player, with 2.4 million customers, followed by Telecom.
An OECD report shows New Zealand has about 120 mobile connections for every 100 people.
Commerce Commission data revealed that the number of Vodafone customers was stable between June 2010 and December last year and Telecom's market share dropped from 2 million to about 1.8 million customers.
The increase in competition appears to be saving cellphone users money.
Venture Consulting found that since the third quarter of 2007, New Zealanders had saved $1.36 billion, about 25 per cent, off their phone bills as a result of increasing competition. Virtually all services have dropped in price.
Between 2008-09 and 2010-11, mobile-to-international calls on average dropped from almost 60c per minute to just over 45c.
Mobile-to-fixed line calls dropped from 35c per minute to just over 20c per minute and off-network calls, those made from one mobile network to another, dropped from just under 50c per minute to less than 40c.
The average price of sending a text has also dropped, from just below 10c from one network to another in 2008-09 to just over 5c in 2010-11.
The price of an on-network text has been stagnant at about 2c and international texts have dropped from an average 23.5c to just under 20c.
More than 11 billion on-network texts were sent in 2010-11 compared with just over 2 billion off-network texts. This was driven by offers such as Vodafone's text bundles, which offer thousands of texts to other Vodafone mobiles for $10.
Charlene White, 2degrees' spokeswoman, said: "When we first launched, we cut pre-pay rates in half from $0.88 to $0.44.
"A recent survey of some of our business customers revealed some of them are also making savings of up to 25 per cent.
"Data published by the Commerce Commission shows that in the first two years following 2degrees' market entry, the average revenue per minute for retail mobile calls fell by 24 per cent from 30c per minute in 2008-09 to 23c per minute in 2010-11."
Consumer NZ chief executive Suzanne Chetwin said the increase in competition had given the industry a shake-up, although mobile internet data was still expensive.
New Zealanders used twice as much data in 2010-11 as they did the year before. But while Australian Vodafone customers pay A$49 ($63) a month for up to 1GB of data, their New Zealand counterparts spend about $90.
The Commerce Commission report said the average retail mobile data charge for 2010-11 was 12c per megabyte, down from about 20c the year before.
Spokeswoman for Vodafone Michelle Baguley said Chetwin's criticism of data prices was unfair. "Vodafone is committed to offering great value to all its customers. This is evident when you compare the decline in mobile data pricing over the past five years."
Compare mobile plans on Consumer NZ's website, Telme.org.nz.