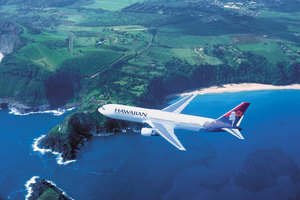 A new non-stop flight from Auckland to Honolulu has sparked an airline price war.
Hawaiian Airlines has announced introductory round-trip fares of $1075 for the service starting next March 14.
That's prompted Air New Zealand to offer 'deal' rates for return tickets starting at $912.
"We're always seeking to ensure our fares are competitive," an Air New Zealand spokeswoman said.
Hawaiian Airlines said their flights would open up a new range of holiday options for New Zealanders, with the same carrier providing connections to the neighbouring islands of Maui, Kauai and Hawaii Island, and $1694 economy flights to 11 destinations on the US mainland, including Los Angeles, Las Vegas and New York.
The airline said its flight times were designed to maximise travellers' time in the sun, with Boeing 767-300ER flight HA 446 departing at 11.55pm every Tuesday, Thursday and Saturday, crossing the international dateline and arriving in Honolulu at 9.45am the same day.
The return flight, HA 445, will depart Honolulu at 1.45pm every Monday, Wednesday and Friday, and arrive at Auckland at 9.55pm the following day.
- APNZ