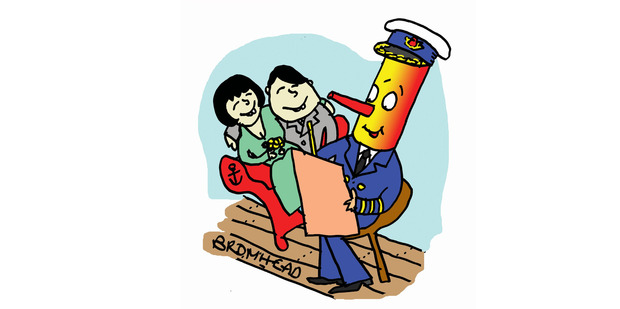 When strangers congratulate me on my career as a newspaper cartoonist, I can only smile wanly.
They clearly have no idea that the financial benefits are on par with the penury expected by a Trappist monk.
Fortunately, I've subsidised my creative career with a number of parallel occupations.
When young hopefuls seek advice on editorial cartooning, I wearily suggest there's more money in adding meat patties to hamburger buns than there is in pursuing a satirical graphic vocation.
I have, however, experienced one chance in my career to become rich beyond my dreams, when an opening for a cartoonist presented itself in Hawaii.
Readers may be aware that the Japanese are attracted to Honolulu, not only to bomb the place, but to tie the nuptial knot, as wedding ceremonies are less expensive on the island than they are at home.
Americans, being Americans, have turned nuptial celebrations into the usual Disney-style syrup.
An all-time Hawaiian favourite is the Windjammer Wedding. This involves a sunset cruise off the Waikiki coast on a fake sailing ship, with the captain officiating at the ceremony.
The Japanese love the package, which includes heart-shaped wedding cakes, champagne and lobster suppers, plus wedding photos framed in miniature replicas of lifebelts.
Catering for up to 1000 guests, this is a serious maritime business operation. So, what's in it for a cartoonist?
Well, below decks, in an 'artist's cabin', I discovered an ex-newspaper cartoonist dressed in naval officer's uniform, drawing awful caricatures of wedding couples.
He appeared to be making a fistful of money in fees and tips, pulling in something like US$6000 a week.
Awash with money, he'd decided to retire back to Maui to concentrate on his golf, leaving a job opportunity. At last, I thought, a chance for another old sea dog to hit the big time.
The only snag was that the retiring cartoonist drew all his caricatures with smiley faces and sickly Bambi-like eyes, essential features expected by his lovestruck Japanese clients.
Having been fed on American comics during World War II, I only know how to draw Japanese facial characteristics in the wartime manner - emphasising cruel, slit eyes and snarling buckteeth mouths.
Somehow, I think I'd have been walking the plank within a week of employment. At least that fate would have given me the opportunity to defiantly yell, as I sank below the waves: "Have you forgotten Pearl Harbour?"