Tourism developers want to put a monorail into Fiordland, shortening the journey from Queenstown. Bob Robertson defends his scheme, and Dianne Blumhardt urges the Government to turn it down.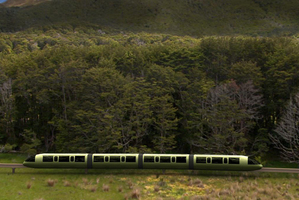 Bob Robertson: FOR
In a few weeks the Minister of Conservation, through his department's general manager of operations, will decide whether to grant a concession for the "Fiordland Link Experience", a privately funded, $170 million eco-tourism proposal of national significance.
The decision comes as the head of the Tourism Industry Association, Martin Snedden, is calling for the industry to adapt its offerings to what visitors want. Though the project ticks all the boxes, a collection of small special interest groups is working to kill it off.
This raises a question: if even green projects like this run into this kind of opposition, what is the future for investment and development throughout New Zealand?
Visitor numbers to Milford Sound have decreased every year since 2006. The project would reverse this by replacing the 580km round trip from Queenstown to Milford Sound with a combination of catamaran, all-terrain vehicle and monorail travel, and shave hours off the trip.
The monorail would be the longest in the world and powered entirely by renewable energy. The monorail track would be carefully laid to avoid significant beech trees and stay outside the boundaries of the Fiordland National Park. Only 22ha of the 46,750ha Snowdon Forest would be affected - less than 0.05 per cent.
The investors have spent $3.5 million consulting the Department of Conservation. At a time of strained government budgets, the project would be entirely funded by local developers. It is expected to create at least 40 engineering and construction jobs and around 65 permanent jobs once the project is operational.
Concessions paid to DoC would contribute to its work and extensive overseas advertising by the investors would help the wider tourism sector.
Despite all this, a small number of people want to stop the project. They can be divided into three groups: those who want to keep the area for themselves, those with competing business interests, and those who oppose any development.
The first group comprises existing recreational users of the Fiordland area. They are concerned that the footprint of the monorail will disrupt their use of the land. As this is a matter of perception, we have to take their word for it. However, the area in question is vast and multiple uses can easily co-exist.
The second group run existing businesses that would compete with the Fiordland link. The degree to which they will be affected depends on the choices of visitors to the region.
The overriding point, however, is that commercially self-interested parties should react to competition by improving their visitor offering, not by knee-capping potential competitors with cynical objections at the consenting phase.
The third group has parachuted in from out of town. It appears opposed to development for ideological reasons and advocates encouraging people to stay longer and walk more. That is easier said than done for those who are time constrained or who lack the physical strength to go on walks. They include many elderly visitors.
The decision each of us now faces is whether we get behind projects like this or bow to pressure from a few special interest groups.
Do we want to create jobs and enable more people to see more of our beautiful country, or keep the environment the preserve of a select few?
Bob Robertson is managing director of the Infinity Investment Group.
Dianne Blumhardt: AGAINST
The fate of parts of pristine Fiordland hangs in the balance. Proposals by two different development companies to shortcut the road journey from Queenstown to Milford Sound are being considered by the Department of Conservation.
One of them proposes a tunnel in Mt Aspiring National Park, beyond Glenorchy where the stunning Routeburn wilderness walk begins. It would take private buses underground to the Hollyford Rd in Fiordland National Park, then on to Milford Sound. The other proposal is a monorail that would cut a swathe through DoC's Snowdon Forest, also aiming to condense the journey through to Milford.
DoC, established in the 1980s to protect the diminishing natural assets of New Zealand, is being lured by the dollar to grant concessions to these two invasive private enterprises.
Already the conservation estate is peppered with businesses that operate fairly unobtrusively, generating income through a strictly monitored relationship. So why the fuss over the proposed monorail and tunnel?
Look at the jobs they will create felling trees, bulldozing roads and in their main construction. Think of the revenue pouring into the local economy and Government coffers.
Yes, big companies will benefit, as will huge hotel consortiums (New Zealand-owned?) to accommodate targeted Asian tourists who will come to see as much as possible in as short a time as possible.
But what about small businesses throughout New Zealand?
With the loss of integrity, yet again, for our "100% Pure NZ" image, real travellers, prepared for real journeys seeing, and experiencing the raw natural beauty of real New Zealand, will recoil from travelling here. Such travellers embrace our perceived respect for the grandeur we guard.
The real loss is beyond monetary consideration. It reaches into the heart and conscience of anyone with enough humility to see beyond self-gratification. To allow all senses the chance to absorb the aura of this untouched world is a humbling experience indeed.
What arrogance would even consider meddling here? But DoC needs money, and conservation and tourism are strongly linked, so let's look for solutions within tourism.
Tourism ranges from the high-end, top lodge, private jet set through the organised hotel-staying bus tours to self-drive retirees who stay in small motels or bed & breakfasts, campervan users and backpackers.
All enjoy our conservation estate to a greater or lesser degree but how many contribute directly to DoC?
As a retiring bed & breakfast operator, a hiker and a caring citizen, I have sought an answer to this problem. Through discussion with the thousands of tourists over the past 20 years, I have discovered that not one of them would be averse to paying a small levy going directly to DoC.
Obviously charging to enter a National Park is not worth consideration, whereas a small levy (say $20) charged at our border to anyone travelling on a foreign passport, should provide revenue. We don't need to sell our soul.
Regardless of where we live in New Zealand we all have a duty to defend what is left of its natural assets. Kiwis who leave city comforts, and visit our wilderness areas, will understand this plea: Don't stuff up any more of Real New Zealand, this is our heritage.
Dianne Blumhardt of Thames is a retired school teacher and bed and breakfast operator. The real loss is beyond monetary consideration.