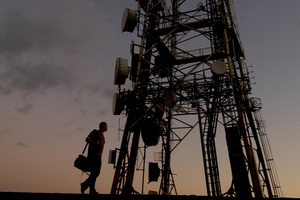 Kordia is looking for an outside investor or partnership to help support growth in its Australian business Kordia Solutions and could roll out a similar model in New Zealand if it is successful.
The state-owned telecommunications company yesterday revealed the move after speculation emerged about the company or its Australian division being up for sale.
Kordia spokeswoman Emma Morrison said there was no mandate from the owner - the Government - to sell all or part of the business.
"There has been no board decision made to sell Kordia's Australian business Kordia Solutions or the business as a whole."
However Morrison said the Australian business had seen significant growth of around 60 per cent year on year and the company was looking for ways to help finance this.
That could involve an outside investor or a partnership with another company, she said.
"We are always open to discussions for a partnership."
She would not say how much money the company was looking for or when it was needed by.
But Morrison said that if the model was successful in Australia it could also be pursued for the New Zealand business.
Kordia Solutions is involved in a number of sectors across the Tasman, including building and managing private networks for mining companies.
It has also been a consultant for the National Broadband Network - the Australian equivalent of the ultra-fast broadband scheme.
Last year broking firm First NZ Capital valued the Kordia Solutions Australian part of the business at $78 million and its New Zealand part at $11 million.
In his report, analyst Greg Main noted there was potential for other entities to look to acquire either Kordia Solutions Australia or the New Zealand business.
"Under a consolidation scenario it is quite possible that efficiencies could be achieved in areas such as IT costs and licences and general overheads that could see a price paid in excess of our valuation."
In that scenario, Main said it would not be unreasonable to add $5 million to $10 million to the valuation.
First NZ valued the entire Kordia Group at $215 million.
Yesterday Main would not comment on potential investors or partners Kordia Solutions could join with, nor on what areas the business could be looking to expand.
One market source suggested the new investment could be combined with a rotation out of some other assets which Kordia owns.
There has been speculation that it may sell its internet service provider Orcon, although the Kordia spokeswoman also said it was not for sale.
Kordia paid $23.4 million to buy Orcon in 2007 from founder Seeby Woodhouse. First NZ last year valued Orcon at $59 million.
In the year to June 30, 2011, Kordia made a net loss of $14.7 million after it wrote off $21.9 million on its TV business. Its adjusted net profit was $7.4 million, up from $3 million the year before.