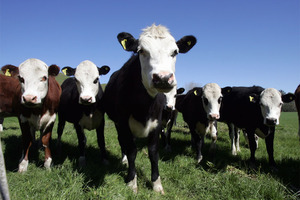 Dairy product prices showed signs of stabilising at yesterday's fortnightly dairy auction, but the strength of the New Zealand dollar is clouding the outlook for Fonterra's payout to farmers for the 2012/13 season, economists said.
Results of GlobalDairyTrade (GDT) auction were encouraging, but the value of the Kiwi dollar was likely to be a concern for Fonterra, which has forecast farmgate milk price of $5.50 a kilogram of milksolids for the season.
Independent dairy co-operatives, which have tended to act as bellwethers for their much larger competitor, are cutting their forecasts for 2012/13.
APNZ understands that Hokitika-based Westland Milk Products - one of the larger independent co-operatives - will cut its payout forecast tomorrow to between $5 and $5.40 a kilo, down from the previously budgeted $5.70 to $6.10 a kilo.
Fonterra collects around 89 per cent of New Zealand's milk production. In May, it announced a lower opening forecast payout for the 2012/13 season, reflecting higher dairy production around the world flowing through to lower international dairy prices.
The opening forecast payout range was $5.95 to $6.05 a kilo.
At yesterday's auction, the GDT-TWI price index rose 3.5 per cent on the last sale in July.
The average winning price rose to US$2797 a metric tonne. Whole milk powder rose 3.5 per cent to US$2675 a tonne and skim milk powder gained 3 per cent to $2805 a tonne.
- APNZ