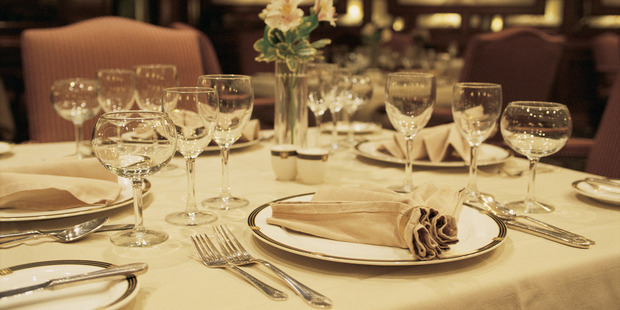 The number of New Zealanders dining out once a week has declined by 10 per cent since last year because of challenging economic times.
But more than half of Kiwis have not changed their dining habits and are still eating away from home at least once a month, a survey has found.
The third annual American Express dining survey asked 1000 New Zealanders 18 or older about their dining habits.
The results, issued yesterday, coincide with Auckland Restaurant Month, which started yesterday.
Thirty per cent of the survey respondents said they were dining out less frequently and a further 12 per cent said they were eating at less expensive places.
The survey defined dining out to mean any meal eaten away from the home that is paid for, including fine dining, casual dining, cafes, food halls, fast food premises, pubs and bistros.
About 30 per cent of respondents said they were taking advantage of special offers, deals from daily internet sites and entertainment books.
The chief executive of the Restaurant Association, Marisa Bidois, said price was important for many diners but quality food was the main factor when eating out.
"Some diners are 'shifting down' to a different type of restaurant," she said.
"Essentially people are choosing restaurants and dining venues that are right for their current situation but still with an emphasis on quality food."
Ms Bidois said restaurant operators needed to continue to be "creative, nimble and respond to the market".
Auckland Restaurant Month will feature world-class chefs, events and more than 100 central city restaurants showcasing special menus and offers.
DINING HABITS
* Aucklanders and Wellingtonians are most likely to eat out at least once a week.
* Wellingtonians are most likely to use daily deal sites and discount promotions.
* 46 per cent in the central North Island said not having a public holidays surcharge was an important issue. The national average is 23 per cent.