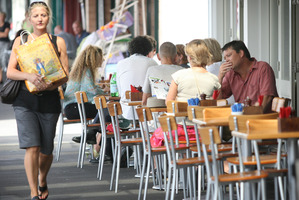 Multimillion-dollar Auckland house sales are back at peak 2007 levels, says the city's largest agency, and suburbs not previously in the top league are recording mansion-like prices.
Wendy Alexander, Barfoot & Thompson's chief executive, said 424 houses sold for $1 million-plus from January to June, matching levels last seen five years ago before the global financial crisis.
Mt Eden, Western Springs, Mt Albert, Blockhouse Bay, Hillsborough and Onehunga recorded 155 $1 million-plus sales in the first half of this year, she said.
Ms Alexander said that in 2009 and 2010, the number of homes selling for $1 million-plus increased only modestly, but took off last year when 308 were sold in the first six months of the year.
Now, that number had jumped by 38 per cent, she said.
But the mega-mansion market seems somewhat more subdued.
"By contrast, homes selling for in excess of $2 million have not returned to their 2007 peak. In the first six months of this year we sold 51 homes for more than $2 million. While this is up on last year's 36, it is still well under the 99 sold in the first half of 2007," she said.
The $1 million-plus sale trend was assisted by a general rise in prices, the growth of Auckland and a growing preparedness by high-earning people to invest in their lifestyle, Ms Alexander said.
"Demand for homes in the suburbs around the central business district, the beach-facing suburbs and rural lifestyle properties are all in great demand.
"The land in these areas is irreplaceable and therefore very valuable, and homes are being built or refurbished in keeping with those high values," she said.
Jack Regan, an LJ Hooker agent, distributed flyers in Westmere trumpeting a "street record for a do-up at $1,210,000".
The house at 42 Chester Ave needed extensive work, he indicated, yet it fetched a price not previously seen for that type of home.
The Professionals advertised 41 Chester Ave as sold, having been advertised as "asking $925,000" for the character 1920s bungalow with three double bedrooms.
Finance Minister Bill English has expressed concern about the situation.
"The prices you pay for a house are ridiculous and they look that way to 24-year-olds with lots of student debt and the prospect of better pay in Australia. The most unfair aspect of it is that there's no housing being built for people in the lowest quartile of income. Like none. That is clearly unsustainable," he said last month.
Questions are also being asked in civic Auckland circles about why the Government has not responded to the Productivity Commission's hard-hitting housing affordability report which demanded more land supply.
But Auckland Mayor Len Brown said 18,500 greenfields sections were available, with full services and ready for houses to be built. The new Auckland Plan restricts 70 per cent of all new housing within existing boundaries.
TOP SUBURBS
* No 1: Herne Bay: average sale price $1.35m (No 1. in 2011 first half).
* No 2: Devonport: average $1.16m (No 5 in 2011 first half).
* No 3: Epsom: average $1.06m (No 7 previously).
Source: Barfoot & Thompson sales, first half 2012.